Some schools will close and people are being told to stay at home as Storm Babet bears down on parts of the UK.
The Met Office has issued a rare red warning for "exceptional and persistent" rain in eastern Scotland, as well as amber and yellow warnings for wind and rain in other areas.
The red alert covers parts of the east of Scotland between the Dundee and Aberdeen areas from 6pm on Thursday until midday on Friday, "with some locations likely to see 200-250mm" of rainfall.
Check the weather forecast in your area
It marks the first time a red warning for rain has been issued in the UK since Storm Dennis in February 2020.
Storm Babet will be 'unprecedented'

Babet, a complex area of low pressure that developed to the west of the Iberian Peninsula, will last until Saturday and is expected to cause flooding, power cuts and travel disruption.
Yellow severe weather warnings, meaning there is the threat of strong winds, extremely wet conditions and potential flooding, have been issued across the week until Saturday for a vast swathe of the UK, covering already-saturated parts of Scotland and northern and eastern England, all the way down the coast to Hampshire and the Isle of Wight.
The Irish forecasting agency Met Eireann has also issued yellow and amber weather warnings for parts of Northern Ireland for heavy rain today and into Thursday.
On Tuesday, the Met Office raised the level of its warning for eastern Scotland from yellow to a more severe rating of amber.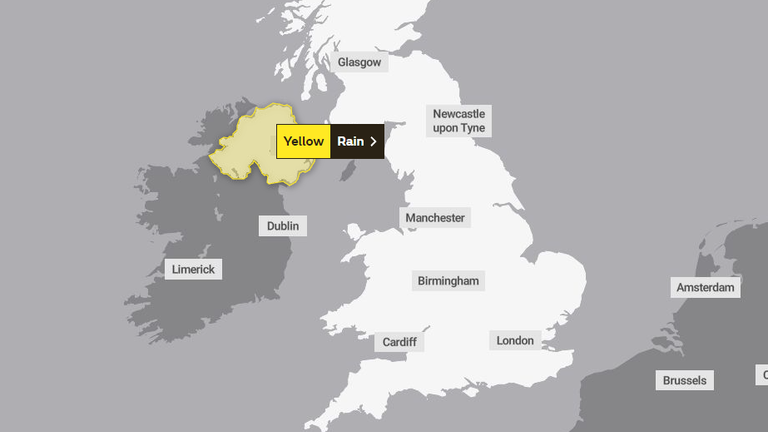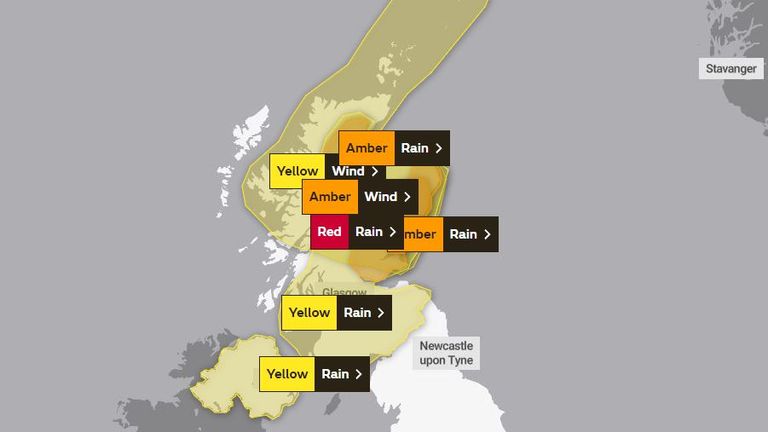 The Met Office said people in Northern Ireland can expect spray and flooding which may lead to difficult driving conditions and some road closures for the duration of the yellow warning for rain. It comes into effect at 2pm today and expires at 10am on Thursday.
There is a "small chance" that homes and businesses could be flooded, causing damage to some buildings, and communities being cut off by flooded roads, forecasters warned.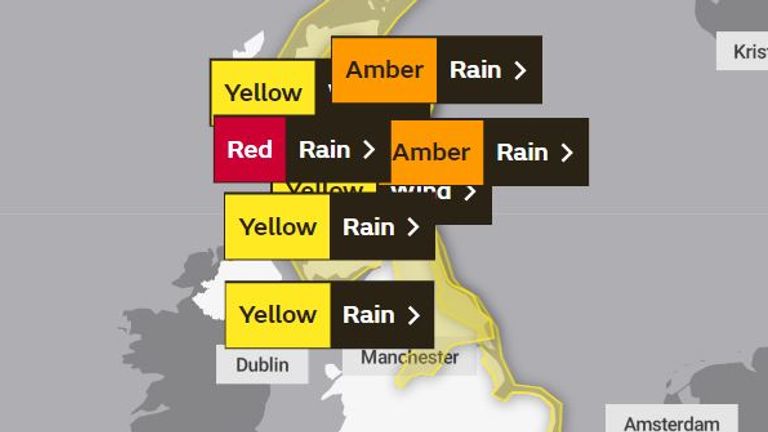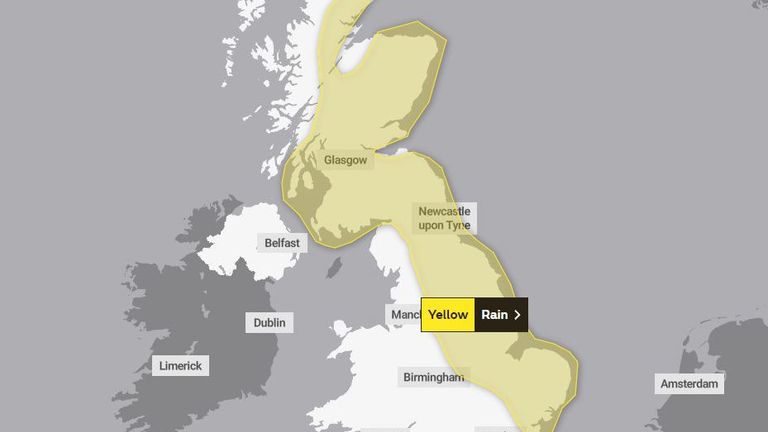 As the rain moves northwards, it will stall across central and eastern parts of Scotland where the rain will become heavy and persistent from Thursday through to Saturday.
There is an amber severe weather warning for rain for this area, meaning exceptionally wet conditions are likely. Up to 150 to 200mm of rain could accumulate in some areas of higher ground.
'Please stay at home'
Earlier on Wednesday, the Scottish Government held a meeting of its Resilience Room (SGoRR), in an effort to mitigate the affects of Storm Babet in the coming days.
In a statement, Deputy First Minister Shona Robinson said: "The strong message is that if you are in the parts of Angus and South Aberdeenshire affected – please stay at home and do not travel.
"Other parts of Scotland are also at risk of flooding as rivers respond and drainage systems become overwhelmed. The risk is exacerbated by the fact that many catchments are already saturated following last week's heavy rainfall and flooding.
"No one should take the risks for granted and I would urge everyone in the country to prepare where necessary, heed the travel warnings issued by Police Scotland and take extreme care around fast-flowing water."
In early October, up to 180mm (8in) of rain was forecast which led to landslides, train cancellations and sporting events being postponed due to floods.
In Angus, an area north of Dundee and up to the Cairngorms, schools will close at lunchtime on Thursday and into Friday, as the local council works to "preserve life".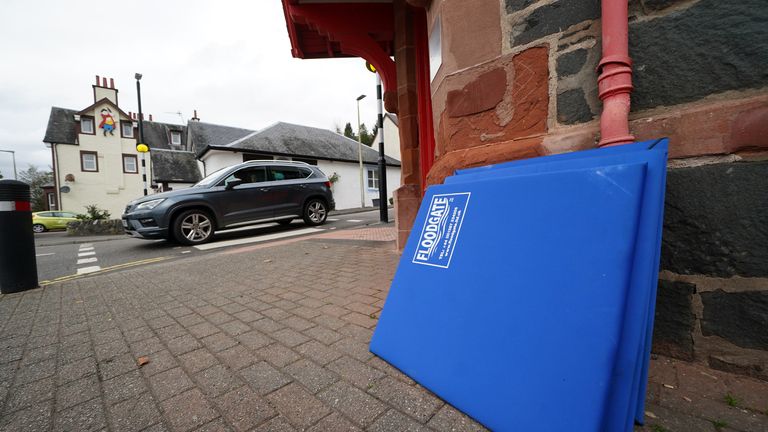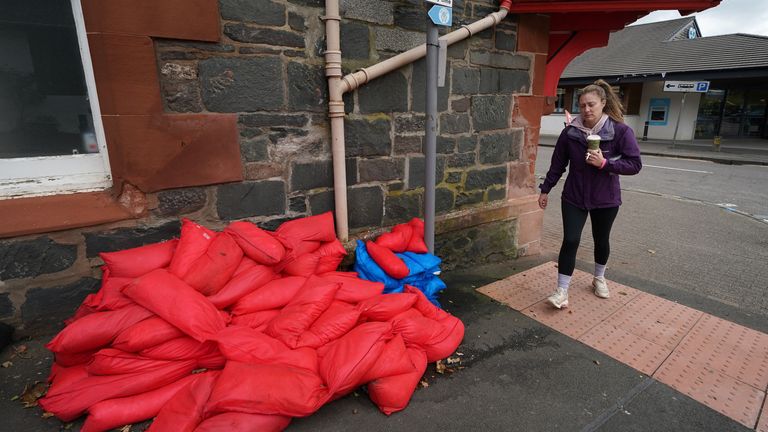 'Danger to life'
Under the amber warning, the Met Office warns "extensive flooding to homes and businesses is possible, which could lead to collapsed or damaged buildings or structures" and "fast flowing or deep floodwater is likely, causing danger to life".
"There is a chance that communities in flooded areas could be completely cut off, perhaps for several days," it adds.
"Power and other essential services, such as gas, water or mobile phone service, may be lost."
Scotland typically receives around 168mm of rainfall in October but the country will receive more than this amount in the span of a few days.
Parts of England can expect more than 100mm of rainfall during the week, with some isolated areas facing up to 150mm.
There are also mass train cancellations across Scotland, expected to last until Saturday, with services stopped from Aberdeen, Elgin, Edinburgh, Fife, Perth and beyond.
Read more from Sky News:
Teenager's killer dies in prison
Captain Tom Foundation 'to close down'
Ireland warned of 'dangerous' weather
Rain warnings for every county in the Republic of Ireland were in place overnight, having come into effect at various stages on Tuesday.
A Status Orange rain warning, meaning there is the possibility of dangerous or disruptive weather, is in place along Ireland's southern coast for counties Cork, Kerry and Waterford.
That warning is due to the risk of flooding, dangerous road conditions and possible wave overtopping at high tide amid heavy rain and strong gusts.
The advisory is due to expire at 1pm, with a Status Yellow rain warning, meaning there is the potential for localised dangerous weather, in place for the rest of the country until between 6pm to 8pm.
Met Office deputy chief meteorologist Tony Wardle said: "Storm Babet will bring disruption for parts of the UK in the coming days, with heavy rain and strong winds likely for many.
"Heavy and persistent rain will fall onto already saturated ground bringing a risk of flooding. It is important to stay up to date with warnings from your local flood warning agency as well as the local authorities.
"As well as heavy rain, Storm Babet will bring some very strong winds and large waves near some eastern coasts too. Gusts around 70mph are possible in eastern and northern Scotland from Thursday. Met Office warnings will continue to be reviewed as the forecast develops."