More than one million emergency parcels are expected to be distributed by food banks this winter due to an "unprecedented need" for help, a charity has warned.
The Trussell Trust network, which supports more than 1,300 food bank centres across the UK, has forecast that more than 600,000 people will rely on food banks from December this year until next February.
That will mean almost 100,000 more emergency food parcels are required compared to the same period last year, when a total of 904,000 were handed out.
Last winter saw 220,000 children supported by emergency meals from the Trussell Trust network, with 225,000 people using a food bank for the first time.
And the charity believes the numbers will continue to rise in the run up to Christmas and into early next year, as many people hit crisis point.
One in seven people in the UK are forced to go hungry because they don't have enough money to feed themselves, Trussell Trust chief executive, Emma Revie, said.
"We don't want to spend every winter saying things are getting worse, but they are," she warned.
Food is desperately needed to make up the emergency parcels, together with money to pay for a shortfall in donations, Ms Revie said.
"Every year we are seeing more and more people needing food banks, and that is just not right," she added, vowing: "We won't stand by and let this continue."
Universities operating food banks

"Together, we have roots into hundreds of communities and while someone facing hunger can't change the structural issues driving the need for food banks on their own, thousands of us coming together can," Ms Revie said.
"We must end hunger across the UK so that no one needs a food bank to survive."
A survey of 282 Trussell Trust food banks over the last three months showed 93% had to buy extra food to meet demand.
Almost a third (32%) admitted they were worried about maintaining their current service levels as winter approaches.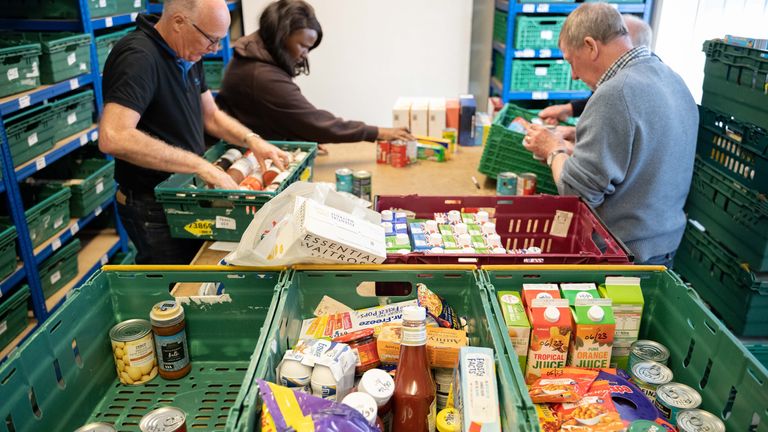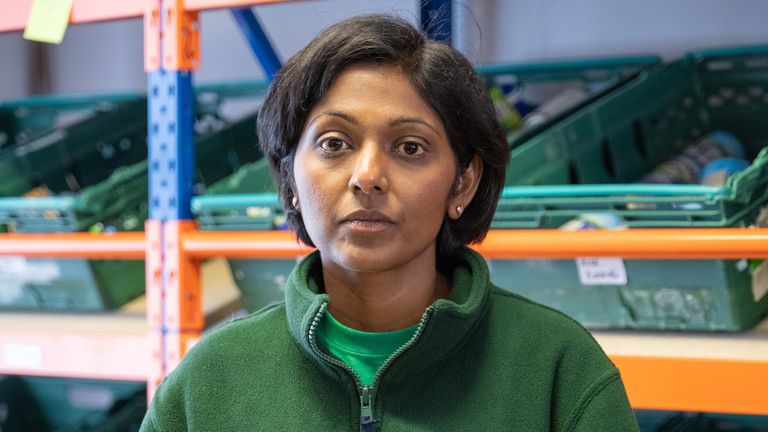 'We face winter with trepidation'
Natasha Copus, project manager at the Trussell Trust food bank in Southend, Essex, said their centres were experiencing "unprecedented need".
"We have had to buy around half the food we give out already this year and that is not even with the added pressure of heating and energy that people will face this winter.
"It is with trepidation that we face the next six months of being there for people," she added, as she called on the local community to offer their support.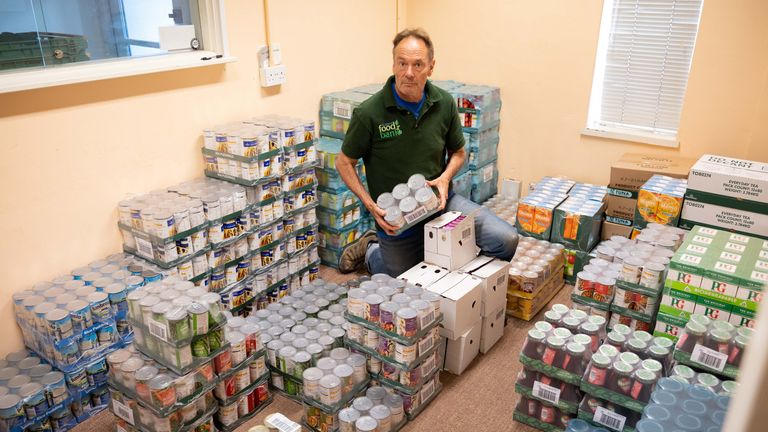 Read more:
Baby milk crisis as families struggle to feed infants
Military personnel forced to depend on food banks
Meanwhile Daniel Kebede, the general secretary of the National Education Union, reiterated calls for free school meals to be extended to all pupils to fight poverty and child hunger, which have "tremendous social and moral costs".
Food banks preparing to support bigger numbers of people is a "damning sign" of the government's failure to support people during the cost-of-living crisis, he said.
'Why are four million children now in poverty?'

'Poverty does not discriminate'
Trussell Trust food banks provided a lifeline for education worker Aneita after a problem with her tax credits saw her "suddenly plunged into a financial nightmare".
"I remember sitting in the waiting room, with my daughter, waiting to be given a food parcel," she said.
"I was holding back my tears, not wanting my daughter to see me upset, and thinking, 'how has it got to this?'."
Click to subscribe to the Sky News Daily wherever you get your podcasts
Now Aneita is calling for an end to food banks.
"We need change – a real living wage, benefits that reflect the cost of living, more social housing.
"Poverty does not discriminate – it can and will single you out through no fault of your own."