The only cancer hospital in Gaza has been forced to shut down due to fuel shortages – as Israel bombed areas of southern Gaza where it told Palestinians to flee, killing dozens.
Amid a worsening humanitarian crisis in the Palestinian enclave, the Turkish Friendship Hospital – which is home to the area's only oncology unit – will stop "large parts of its services", a statement from its director-general Dr Sobhi Skik said.
The remaining part of the hospital will shut down "within 48 hours at the latest", he added.
Follow live: Israel hints at 'something different' to ground offensive
Israel has besieged and bombed Gaza since the Hamas militant attack on southern Israel on 7 October.
More than 1,300 people, mostly civilians, died in the Hamas attack, with about 200 hostages held captive in Gaza.
At least 2,800 people in Gaza have died and 10,850 others have been injured, according to the territory's health ministry.
Hundreds are feared buried under the rubble, and more than a million Palestinians have fled their homes, and aid agencies have warned of a deteriorating humanitarian crisis.
On Wednesday, Israel has bombed areas of southern Gaza where it told Palestinians to flee ahead of an expected invasion, killing dozens of people.
At least 80 were killed in those strikes in the south, the Hamas-run government said.
The Israeli military said it was targeting Hamas hideouts, infrastructure and command centres.
"When we see a target, when we see something moving that is Hamas, we'll take care of it. We'll handle it," said Richard Hecht, an Israeli military spokesman.
Other key developments:
• A 13-year-old British girl missing with her sister after the Hamas attack is confirmed to have died
• The UN operation in Gaza "on verge of collapse", an official says
• US President Joe Biden is expected to visit Israel on Wednesday
• Violence is rising in the West Bank as number of Palestinians killed reaches 61
• Israel says it may do "something different" to its expected ground offensive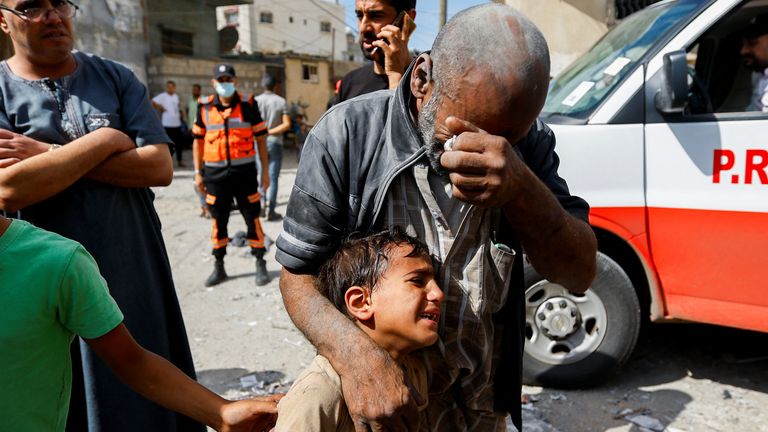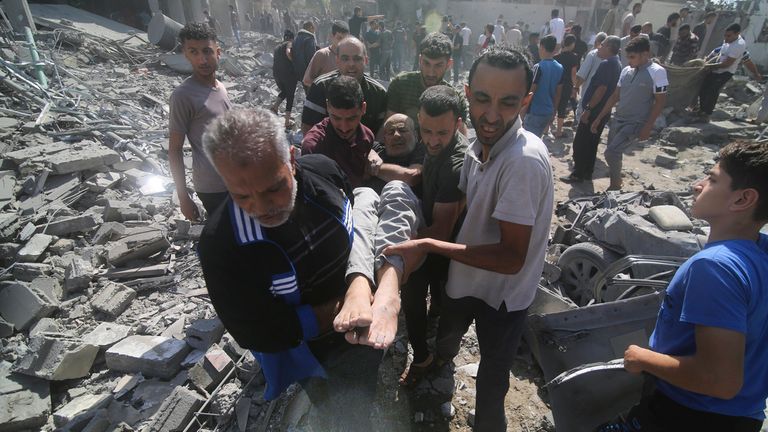 The World Health Organization (WHO) says 115 health facilities have been attacked in Gaza during the conflict and warned of a long-term humanitarian crisis in the Palestinian territory.
The WHO also said it had supplies ready for Gaza near the Rafah crossing at the border with Egypt.
The crossing had been expected to be open to allow humanitarian aid in on Monday – but it remained closed.
The United Nations human rights office has warned that Israel's siege of Gaza and its evacuation order could amount to the international crime of the forcible transfer of civilians.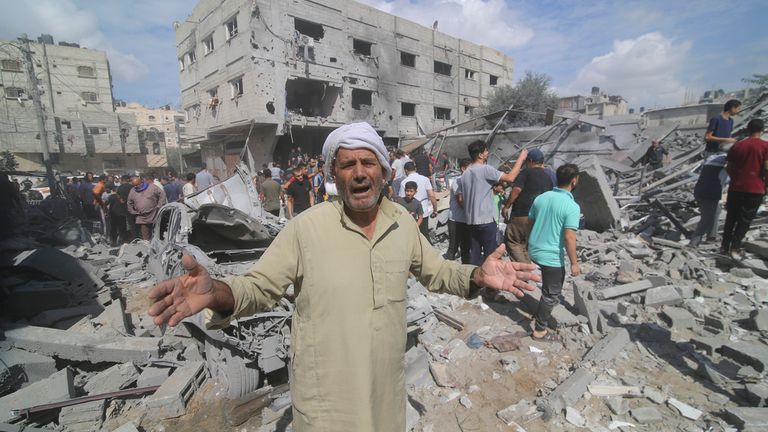 Fears of an escalation
Amid fears the conflict might escalate, President Joe Biden is expected in the region on Wednesday.
Israel's military said it had killed four people who tried to cross into the country from Lebanon to plant an explosive.
And Iran told Israel it should expect "pre-emptive action" in the coming hours in response to its strikes on Gaza.
The country said "all options are open" to the so-called resistance front to respond to Israel's "war crimes".
Iran's foreign minister Hossein Amirabdollahian said: "The resistance front is capable of waging a long-term war with the enemy… in the coming hours, we can expect a pre-emptive action by the resistance front.
"Leaders of the resistance will not allow the Zionist regime to take any action in Gaza."
Iran's foreign minister did not expand on what he meant by resistance front, but the term Axis of Resistance can refer to a loose alliance among Iran, Palestinian militant groups, Syria, the Lebanese militant group Hezbollah and other factions.