At least 500 people have been killed in a bombing of a hospital in Gaza City, the Palestinian Health Ministry has claimed.
A spokesman for the ministry said in a statement: "Initial estimates indicate that between 200 and 300 martyrs were killed in the bombing that targeted Baptist Hospital in Gaza city."
The ministry later revised the figure to at least 500, AP and Reuters reported.
The Israel Defense Forces (IDF) are investigating what happened at the hospital.
Israeli military spokesman Rear Admiral Daniel Hagari said there were still no details on the hospital deaths, adding: "We will get the details and update the public. I don't know to say whether it was an Israeli air strike."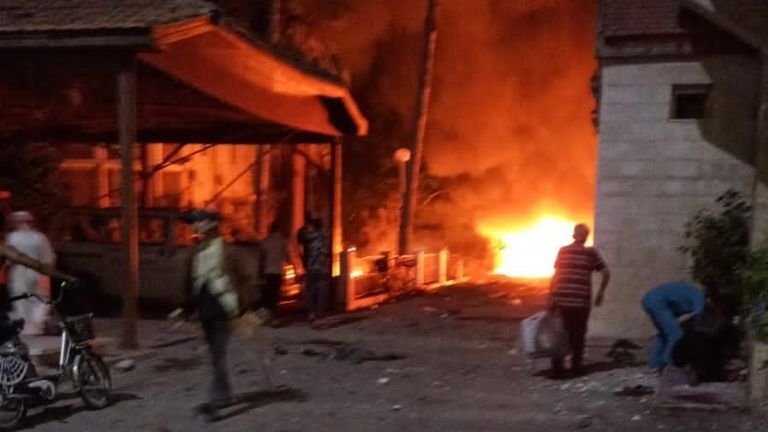 Hamas released a statement following the blast calling it a "crime of genocide".
The militant group said: "The horrific massacre carried out by the Zionist occupation in the Gaza City's Al-Ahly Hospital which left hundreds of casualties, most of them displaced families, patients, children and women, is a crime of genocide that once again reveals the ugly face of this criminal enemy and its fascist and terrorist government.
"This also exposes the American and Western support for this criminal occupation."
It called for "immediate" intervention by the "international community and the Arab and Islamic countries".
Should the claims be confirmed, the attack would be the deadliest Israeli air strike in the five wars fought since 2008.
The explosion follows local reports of deaths and injuries at the al Ahli Arab Baptist Hospital, in northern Gaza.
The Anglican-run hospital was hit by Israeli rocket fire on 14 October leaving four members of staff wounded, according to a statement from Archbishop of Canterbury Justin Welby.
He said patients who were critically ill and injured at the hospital, along with those at other healthcare facilities in the north of the strip, "cannot be safely evacuated".
"I appeal for the evacuation order on hospitals in northern Gaza to be reversed – and for health facilities, health workers, patients and civilians to be protected," the archbishop's statement added.