An MP who defected from the Scottish National Party to join the Conservatives this week has said she and her family have been forced into hiding after receiving a barrage of threatening messages.
Dr Lisa Cameron said she was told "I hope you burn" and "I hope someone throws a brick at you in the street" among a series of threats received over email.
"Think your mental health is bad now — wait til you see what abuse and nastiness yer (sic) going to have to put up with," another message said.
Dr Cameron, her husband and two daughters have moved out of their home and are now living at an undisclosed location in the Scottish countryside.
Speaking to The Times newspaper, Dr Cameron said she took the decision to leave her home to protect her two children.
"The kids were getting upset and I didn't want them to be impacted any more. I thought it was best to get away and try and protect them," she told the newspaper.
"I am a mum before anything else and that was foremost in my thoughts."
The move comes after she resigned on Thursday citing what she called the "toxic and bullying SNP Westminster group", saying she did not feel able to continue.
But the decision of the MP for East Kilbride, Strathaven & Lesmahagow to quit the SNP but not her seat sparked some criticism.
First Minister Humza Yousaf has called for her to resign her seat and call a by-election.
"She should do the honourable thing by her constituents, who voted for an SNP MP [but] did not vote for a Conservative MP," Mr Yousaf said.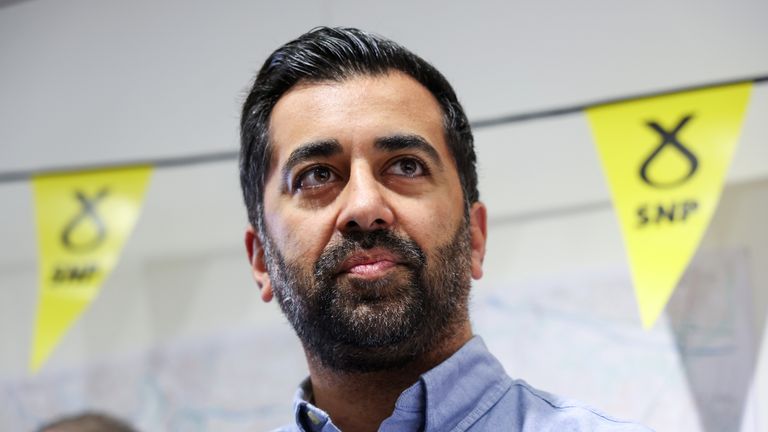 In a statement, Dr Cameron criticised her treatment by the SNP and its leadership after she spoke out about her colleague, Patrick Grady.
Mr Grady was suspended from the House of Commons for two days last year after he was found to have made an "unwanted sexual advance" to a member of party staff in 2016.
The former NHS psychologist said she was mistreated by her party after speaking in support of the complainant.
In a statement she said: "I do not feel able to continue in what I have experienced as a toxic and bullying SNP Westminster group, which resulted in my requiring counselling for a period of 12 months in parliament and caused significant deterioration in my health and wellbeing as assessed by my GP including the need for antidepressants.
"I will never regret my actions in standing up for a victim of abuse at the hands of an SNP MP last year, but I have no faith remaining in a party whose leadership supported the perpetrator's interests over that of the victim's and who have shown little to no interest in acknowledging or addressing the impact," she added.
Read more from Sky News:
SNP loses Westminster seat in 'spectacular fashion'
Labour's victory lap had a hint of what SNP once enjoyed
In a separate interview with the Scottish Daily Mail she said her only regret was not leaving the SNP sooner, describing aspects of the party as "cult-like".
"It does feel quite cult-like in the sense that, in order to have continued approval, you have to think and act and speak and behave in a way that is expected constantly, and never to criticise," she told the newspaper.
She also claimed there was a "cult of personality" within the SNP that has left people feeling "unable to question" the leadership and being forced to leave.
Prime Minister Rishi Sunak has said he was "delighted" Dr Cameron had decided to join the Conservatives, describing her as a "brave and committed constituency MP".
But, SNP president Mike Russell said on Friday the defection was an "odd tantrum", from someone who was "going to lose their nomination".
The SNP is due to meet on Sunday for Humza Yousaf's first conference as leader.