Was this a black swan moment? Or could it have been foreseen?
Certainly the Israeli intelligence failure was astonishing.
And the extreme Hamas barbarity was not something observers ever associated with the Palestinian cause.
But behind those huge shocks, there were signals. A perfect storm was brewing. The moderate Palestinians were ignored, the Israelis were distracted and the Americans were disengaged.
Israel-Gaza latest: Israel releases graphic photos of dead babies
Blinken saw photo of 'baby riddled with bullets'

Three years ago I sat down with two moderate West Bank Palestinians, Hanan Ashrawi and Saeb Erekat.
Ms Ashrawi is an elder stateswoman who was at the White House in 1993 when Bill Clinton pulled the Israelis and the Palestinians together.
As Yitzhak Rabin and Yasser Arafat shook hands on the south lawn 30 years ago, Ms Ashrawi said: "The Palestinian state is emerging…"
Dr Erekat was the veteran Palestinian negotiator through every twist and turn of a peace process that never was.
Absorbing the past week's events, I have been looking back now at my notes of our conversations.
Both warned about Hamas extremism. Both seemed defeated and despondent. They knew their decades-long drive for statehood was gone. They accepted that their own side's intransigence had caused problems but overwhelmingly, they believed they had been undermined by America, Israel and the West.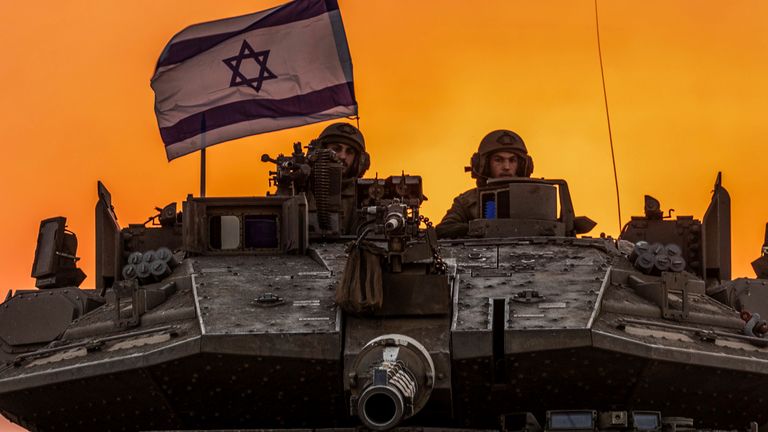 I asked Dr Erekat what he thought his legacy would be.
"Even worse than my legacy? This is what makes me very sad… I am going to be used as an example by extremists in order to show [people], in advance, their fate if they follow in my steps… of where an attempt to recognise Israel, to renounce violence and accept the two-state solution actually led," he told me.
Our conversation was prompted by the signing of the Abraham Accords – a Donald Trump-brokered deal which normalised relations between Israel and two Gulf nations – the United Arab Emirates and Bahrain. It was widely seen as a breakthrough moment for the region and a blueprint for further Israeli-Arab integration.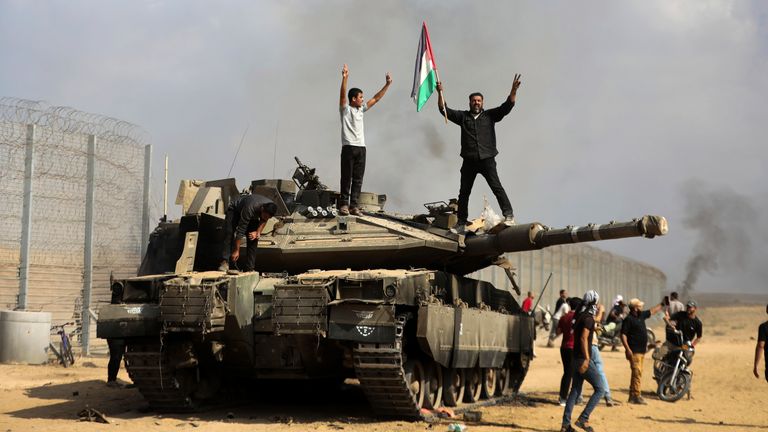 There was one problem. The Palestinians had been left out of the conversation.
The Abraham Accords was an attempt to upturn diplomatic norms; to bypass the core issue (Israel-Palestine) and solve the byproduct issues (Arab-Israeli relations) in the hope that diplomatic reverse engineering would magically fix the Palestinian issue. It was a deal driven more by economic opportunities than by political realities.
For the moderate Palestinians it was another 'dagger in the back', as Dr Erekat put it. He had watched as his cause was consistently undermined: the moving of the US embassy from Tel Aviv to Jerusalem, the cutting of funding, and the failure to call out or even notice the expansion of Jewish settlements in the West Bank.
To Western and Gulf Arab leaders he said: "Congratulations… you have killed the two-state solution and you have killed any negotiations and I think you destroyed the Palestinian moderate camp; Palestinians who want peace, prosperity, human rights… God help this region."
It was the last time we would speak. Dr Erekat died a few months later from COVID.
Read more:
'Hundreds of children and women killed' in Israeli strikes on Gaza
Why Israel is braced for Hezbollah attack from Lebanon
How hostage negotiators will be working to free Hamas captives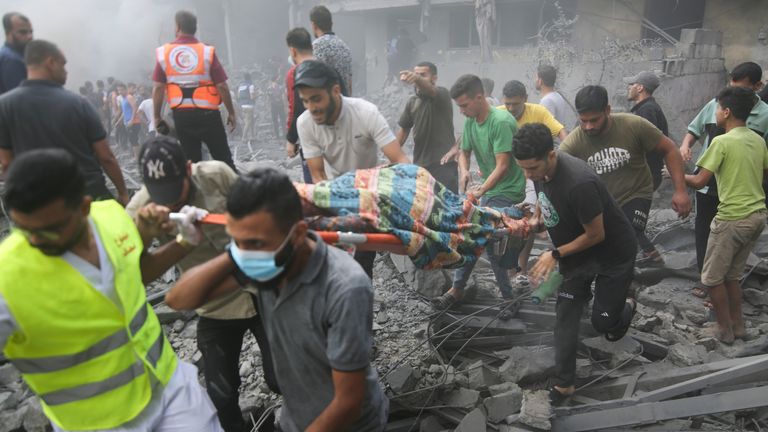 Hamas and Iran
In May 2021 at the end of the last Israel-Hamas war, I sat down in Gaza with the co-founder of Hamas, Mahmoud al-Zahar. It was the first time any Hamas leader had spoken since his group had launched what was then an unprecedented rocket attack on civilians in Israel.
He didn't resemble the moderates I know in the West Bank at all. He was an Islamist. And he said Israel has no right to exist.
He also viewed moderate Palestinians as losers who had proved that negotiations with Israel were pointless.
"Practically, practically, that was proved," the Hamas co-founder told me.
"It is not my assessment. Go and ask [Palestinian president] Mahmoud Abbas: 'Are you now saying a two-state solution is viable or not?'… He will say no… The Israelis are not going to accept a two-state solution. You are now asking me to practise a failed process?"
Across Gaza, Iran's influence is deep. On my last visit there, posters lined the streets of Iran's military commander Qasem Soleimani, assassinated on the orders of then-president Mr Trump.
It's been clear for years that the leadership in Tehran has moulded Hamas extremism and leveraged the Palestinian people's hopelessness. It is all part of its axis of influence that swings through Iraq, Syria and Lebanon, down to Gaza.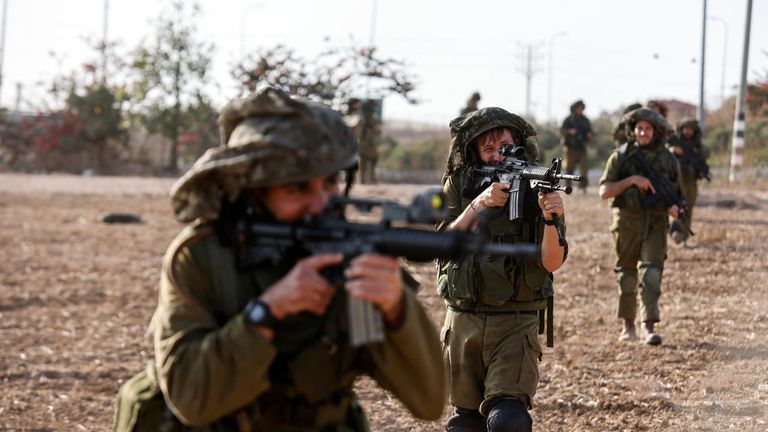 Israel's caged enemy
In Israel, Prime Minister Benjamin Netanyahu warns frequently of the danger Iran poses – but he usually frames it in the nuclear context – the prospect of Iran obtaining nuclear weapons.
With Gaza, his style (his detractors would call it hubris) allowed him to think he could contain Hamas and limit Iranian influence – to his advantage.
Hamas was the enemy in a cage. Mr Netanyahu used the situation as a political tool to remind everyone why the land can never be shared.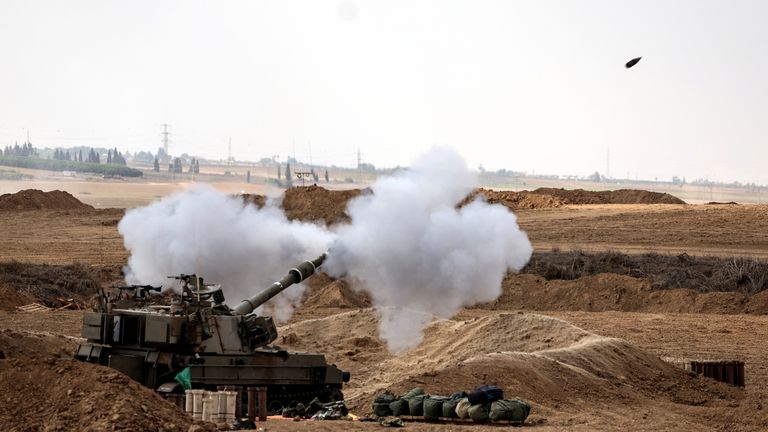 More moderate Israelis, like former prime minister Ehud Olmert, who I also spoke to, and who advocates for Jewish settlement dismantlement and genuine engagement with Palestinians, were pushed aside.
Then, Mr Netanyahu prompted an internal crisis (also through his own hubris?) – his controversial legal reforms ignited the country with massive protests. The consequence was a temporary breakdown in Israeli unity. Even the top brass military threatened to resign.
It was against this backdrop that Hamas struck. The enemy in the cage got out. And it was stronger than Israel could ever have imagined.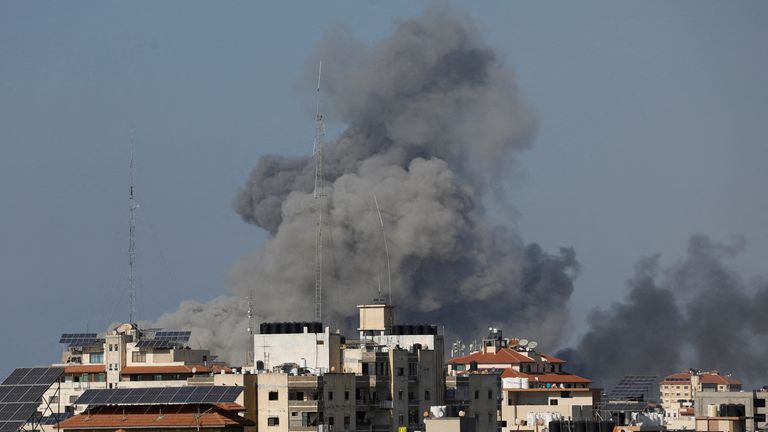 American disengagement
Above all that – America tried to disengage with the Middle East years ago. Forever wars in Iraq and Afghanistan and a need to focus on China and, latterly, Russia, forced a new approach – helicopter diplomacy.
The plan was that historic normalisation deals between Israel and the Gulf Arabs would reshape the region and allow America to step back. If it had worked, it would have been a game changer.
But the Palestinians were not part of that conversation. They didn't want to be without the commitment of statehood, and they weren't encouraged to be because everyone knew that statehood commitment could never be delivered.
Mr Netanyahu's politics had made it an impossibility.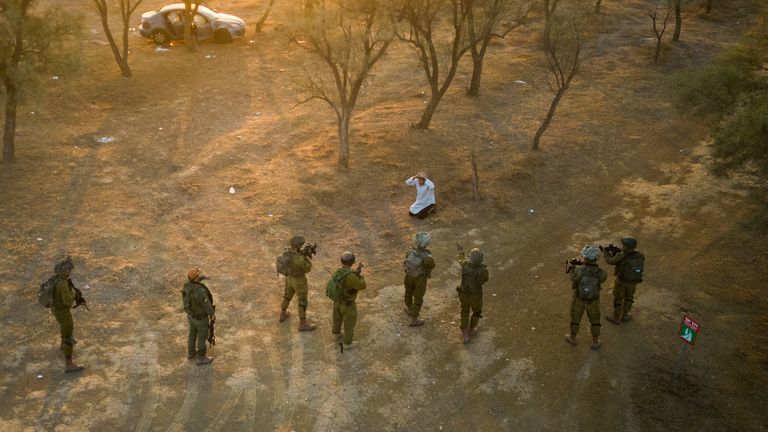 In speeches, US President Joe Biden's top advisers hardly mentioned Israel-Palestine. Even this week as National Security Council spokesman John Kirby countered my assertion that America had disengaged, he listed Yemen, Iraq, Syria, Islamic State and Saudi Arabia but didn't mention Israel-Palestine until I prompted him.
"You are right, I did not and I should have," Mr Kirby said. "… because we have been continuing to want to pursue a two-state solution."
The truth is no one really believes that a two-state solution is achievable. Western diplomats have been quietly telling me this for several years.
And so the region's weakest link was ignored and it ignited.
In Iran, they are no doubt delighted that a normalisation deal between their enemy, Israel, and Saudi Arabia is now in the freezer.
Mr Biden is now desperately trying to take control of the situation; to influence the remoulding of the Middle East that we are seeing.
The question is, can he? It feels out of control now.