Airlines and governments are scrambling to evacuate thousands of tourists from Israel ahead of a possible ground assault on Gaza.
Israel's military said it was conducting a "large-scale strike" on targets belonging to Hamas in Gaza on Thursday, but gave no details, as Israel formed an emergency unity government, with Prime Minister Benjamin Netanyahu sitting in a war cabinet with centrist former defence minister Benny Gantz.
The move came as the Israeli military pounds Gaza to root out the Palestinian militant group, ahead of a possible ground offensive in the coastal strip.
Israeli flag carrier El Al said it would operate 12 extra flights on Wednesday and Thursday to and from Athens, Rome, Madrid, Bucharest, New York, Paris, Larnaca and Istanbul.
Its low-cost unit Sun Dor also plans flights from Istanbul. El Al had already announced an additional flight from New York and six flights to and from Larnaca.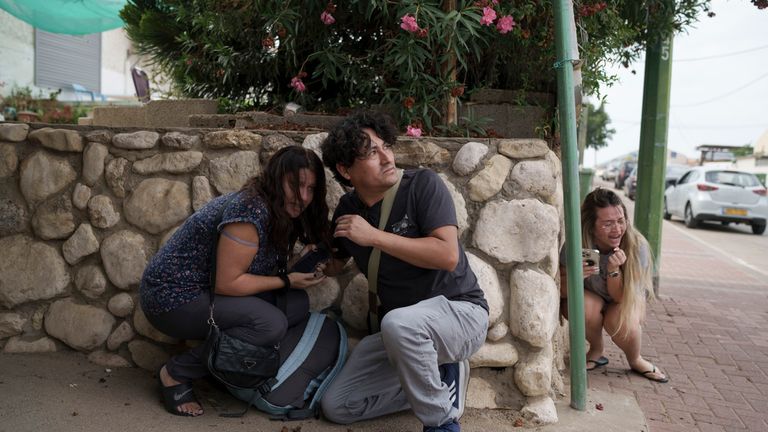 The latest move came as the combined death toll reported by both sides following the weekend attacks by Palestinian militant group Hamas and retaliatory strikes by Israeli forces reached more than 2,000 people.
Most foreign airlines have suspended or curtailed services, leaving passengers uncertain how to leave or reach the country and consular services struggling to keep up with demand for assistance, with priority given to those with missing relatives.
Israel's parliamentary finance committee has said it would debate authorising state guarantees for providing war risk insurance for Israeli airlines.
Israel-Hamas war: 'A nightmare'

The panel said insurance companies had indicated they were entitled to cancel cover with seven days' notice. Airline executives said some cover was still available.
A senior official at insurance industry body Lloyd's Market Association said Israel is not on a commonly used list of high-risk areas for aviation, but that it made sense for underwriters to seek to control their exposure given the escalating violence.
British Airways said it would suspend flights to Tel Aviv after diverting a flight from London back to Britain shortly before it was due to reach Israel, citing security concerns.
Israeli hospital 'preparing for war'

Israel ready for two front war – follow live conflict updates
In other key developments:
• 17 British nationals, including children, killed or missing, Sky News understands
• Missing Irish-Israeli woman confirmed dead
• Met Police appeals for people to send them footage of attacks in Israel
• 22 Americans have been killed, US state department says
• Netanyahu and opposition agree to form emergency government
• UK foreign secretary runs for cover during Israel visit
• At least 1,200 Israelis dead and more than 2,700 injured, IDF says
• At least 1,100 Palestinians dead and 5,184 injured in Israeli strikes, Gaza Health Ministry says
• UK royals issue statements in solidarity with Israel
Watch: Sky News inside the Gaza Strip

Meanwhile, calls for a humanitarian corridor to be established out of Gaza ahead of an expected Israeli ground offensive grow as the bombardment of the Hamas controlled strip continues.
The UN Middle East envoy is currently in Cairo working with other key regional and international partners and the Egyptian government on ending the Hamas-Israel conflict, preventing its expansion, and opening a humanitarian corridor to deliver fuel, food and water to access to Gaza.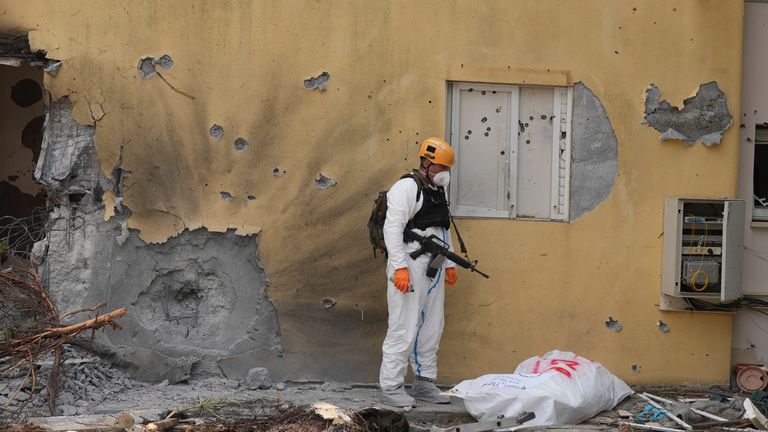 Israel cut off the water and electricity to Gaza earlier in the week.
Tor Wennesland is following up on Egypt's offer to facilitate humanitarian access through the Rafah crossing and to make the El Arish airport available for critical assistance, a UN spokesman said.
The UN humanitarian office reports that 263,000 people have been displaced in Gaza, a 40% increase since Tuesday.
More than 1,000 housing units in Gaza have been destroyed and about 560 severely damaged and rendered uninhabitable in the past day, the UN said.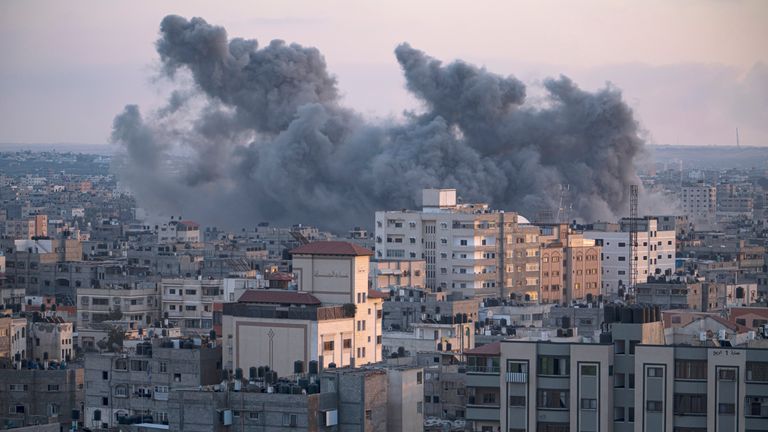 The US is also in active conversations to achieve safe passage out of Gaza for civilians, White House National Security spokesman John Kirby said Wednesday.
Mr Kirby noted that Israel and Egypt are the two most significant players in the efforts.
"We are having active conversations about trying to allow for that safe passage," he said. "It's the civilians who did nothing wrong so we want to make sure they have a way out."