The Hamas operation started just before 7am in Israel and came without any warning. 
Israel is coming to the end of the Jewish festival of Sukkot and today is the Shabbat day of rest, but Prime Minister Benjamin Netanyahu convened an emergency meeting of his security cabinet to work out how to respond to this crisis.
And crisis it is.
Netanyahu has described it as a war and the Israeli military will respond accordingly.
Israel-Gaza latest: Hamas fighters on ground in Israel after '5,000' rockets fired
Video footage of Hamas fighters, with white headbands, driving through the streets of Israeli cities in pick-up trucks with heavy machine guns is unprecedented.
This would appear to be a major failing of Israeli intelligence.
The inquiry is for later, but Israelis who have messaged me from their hiding places near the border want answers now.
Hamas managed to break through the usually impregnable border fences and drive trucks and weaponry over the border.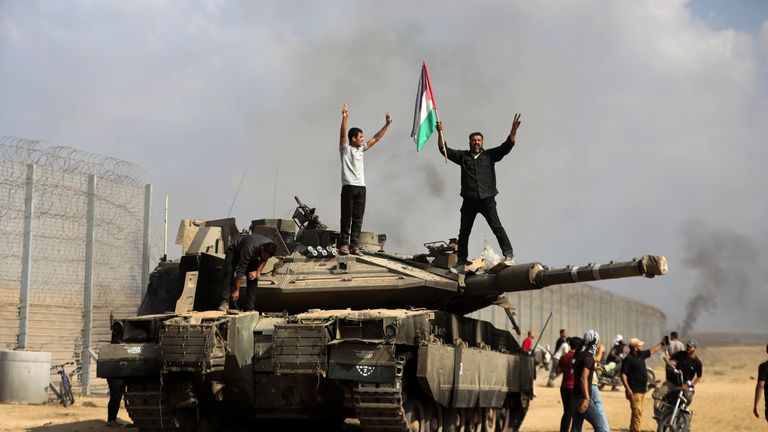 They must have had significant assistance within Israel itself to carry this attack out, and most likely help from Iran and Hezbollah.
Videos posted on social media show Hamas fighters driving captured Israeli military vehicles, highly embarrassing for the IDF, usually a feared military force.
There are reports and evidence of some Israeli soldiers that have been killed and their bodies captured by Hamas – the Israeli military isn't confirming this at this stage.
Video seems to show Hamas paragliding over border

Another video shows an elderly Israeli woman being paraded through Gaza in a golf buggy, her face blank with shock.
The Israeli military has already started striking Gaza in retaliation, but there are days of war ahead.
This isn't the usual round of violence. It's far more serious than that. A ground incursion is not out of the question.
Hamas' actions have been roundly condemned by Western allies of Israel.
A peace deal between Saudi Arabia and Israel was appearing close, but what happens over the coming days might put that in doubt. Maybe that is Hamas's aim.