The UK's short-lived September heatwave looks set to come to a wet and windy end, according to forecasters.
Heavy rain and thunderstorms are forecast to hit parts of the country on Sunday.
A yellow weather warning is in place for the southwest of England and South Wales throughout the day.
The Met Office says there could be a small chance of flooding, with the potential of disruption to travel in the areas covered by the weather warning.
Read more:
The latest Sky News weather forecast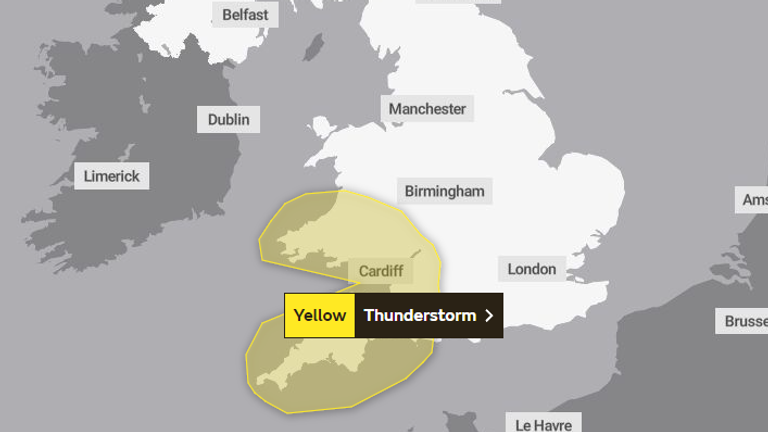 Meanwhile, forecasters are predicting a dreary week for much of the UK next week.
There will be further heavy and thundery showers on Monday, although turning drier and fresher from the west into the evening, forecasters said.
It will also be increasingly blustery, particularly in and around any heavy showers or thunderstorms.
Later in the week, the forecast remains "unsettled", according to the Met Office, with "strong winds and outbreaks of rain on Tuesday and Wednesday".
Widespread showers are on Thursday with a risk of hail and thunder, according to the forecast.
Read more:
Next storm names include famous comic book character
How an 'omega block' is causing extreme weather
Earlier this month, a new record was set after the seventh consecutive day of temperatures above 30C in the UK – the longest run ever recorded in the month of September.