Comedian and actor Russell Brand has been accused of rape, sexual assaults and emotional abuse in a Sunday Times and Dispatches investigation – allegations he denies.
Four women have made allegations of sexual assaults between 2006 and 2013 while he was at the height of his fame, according to the newspaper.
The Sunday Times reports that others have made a range of accusations about Brand's controlling, abusive and predatory behaviour.
In an overnight video put out on YouTube Brand denied "very serious criminal allegations" that he claims would be made against him by a newspaper and TV company.
In a video posted on YouTube and X, formerly known as Twitter, entitled "So, This is Happening", the comedian denied the allegations that he described as "a litany of extremely egregious and aggressive attacks".
The 48-year-old said he had received "two extremely disturbing letters… and an email" – "one from a mainstream TV company, one from a newspaper".
He said he "absolutely refutes" the allegations that "pertain to the time when I was working in the mainstream".
"As I've written about extensively in my books, I was very, very promiscuous," he said in the clip.
"Now, during that time of promiscuity, the relationships I had were absolutely always consensual. I was always transparent about that then, almost too transparent, and I'm being transparent about it now as well."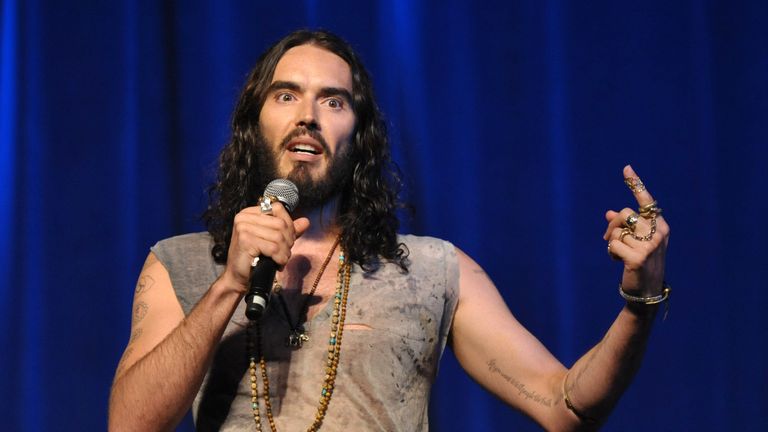 One of accusers only 16
One of his accusers claims she was 16 when they began a relationship, having met each other while shopping in central London.
Another woman claims to have been raped by Brand at his Los Angeles home.
The newspaper details claims she was treated at a rape crisis centre on the same day and sent him a text afterwards saying: "When a girl say[s] NO it means no."
A third woman alleges he sexually assaulted her at his West Hollywood home after the pair met at Alcoholics Anonymous.
The fourth accuser claims to have been physically and emotionally abused by him.
Female comedians 'warning each other about him for many years'
A female comedian, who has not been named, also recalls being "grabbed" and "bitten" in the face by Brand when they gigged together in the early 2000s.
She likens his behaviour at parties to the character in the 1987 film Predator.
A comedian the Sunday Times spoke to says Brand's name was regularly circulated in online groups of female comics.
"I know for many, many years that women have been warning each other about Russell," he told the paper.
This breaking news story is being updated and more details will be published shortly.
Please refresh the page for the fullest version.
You can receive Breaking News alerts on a smartphone or tablet via the Sky News App. You can also follow @SkyNews on X or subscribe to our YouTube channel to keep up with the latest news.