The Lionesses have secured a place in the quarter-finals of the Women's World Cup after a dramatic penalty shootout win over Nigeria.
England secured four goals while Nigeria scored two following the 123-minute match.
Lioness Chloe Kelly scored England's winning goal following the other successful shots from Beth England, Rachel Daly and Alex Greenwood.
England will now face either Jamaica or Colombia in the quarter-finals on Saturday.
Speaking after the match, Kelly said: "We dig deep and we believe in our abilities and first and foremost we believe in what we're being told to do."
It comes after a tense game which saw England star Lauren James sent off with a red card after she stamped on the back of her fallen opponent leaving her team down to 10 players.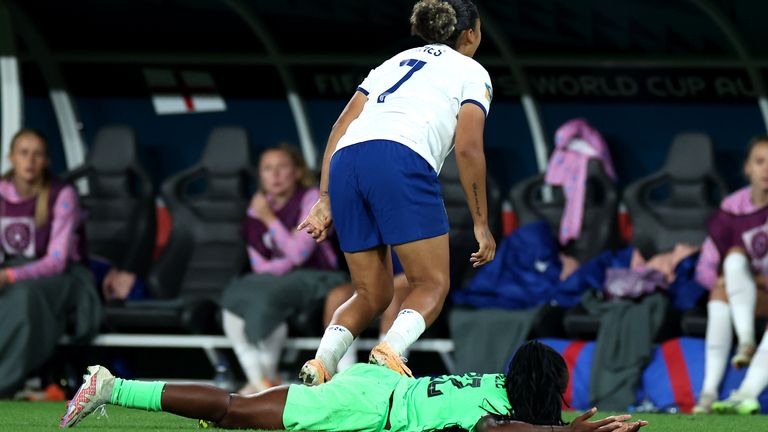 James, 21, was handed the red after 87 minutes following a VAR check after she walked across Nigeria's Michelle Alozie's back in what Gary Lineker called a "Beckhamesque moment of madness".
Last year's European champions are now through to the last eight following the shock exit of favourites the USA yesterday who lost to Sweden on penalties.
Former England international Lee Henrie said the match was "not a classic performance" from England adding that Nigeria were "excellent all over the pitch".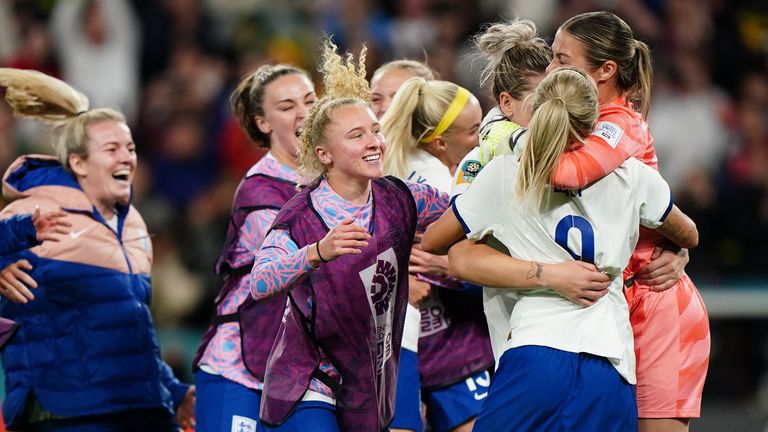 He told Sky Sports News: "Brilliant penalties in the end from England and they are through to the quarter-finals. They have had to dig deep, it has not been a classic performance, you have to feel for Nigeria, who were excellent all over the pitch, they had a game plan and worked all over the pitch.
"Then it was all about England going down to 10 players and you feel can they just get through this period and have the belief to get through that, and they did."
Read more:
Breakout World Cup star Lauren James steps out of brother's shadow
Morocco defender becomes first player to wear hijab at World Cup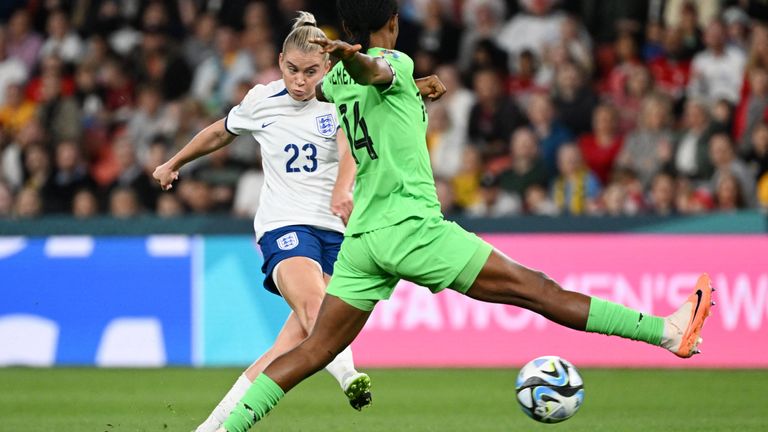 Earlier in the match England could have had a penalty after Rachel Daly went down under contact from a Nigeria defender in the first half. But after looking at VAR the referee overturned her decision.
The team's back three generally stood firm under the Nigeria pressure all game.
The match also saw the return of midfielder Keira Walsh who was back in action after she was stretchered off with a knee injury during England's match against Denmark.
'If I were a little girl now I'd be absolutely loving it', fans gather to back Lionesses
Bright and early on a Monday morning a venue within the Chelsea stadium opened its doors to season ticket holders eager to cheer on the Lionesses in their decisive game against Nigeria.
This being 8am, the atmosphere was a far cry from the usual rowdiness that accompanies football games, but once the 100 or so fans downed some breakfast on offer they were ready to back the England women all the way.
Among them was Cally Soutar, a football player herself, for whom the attention that the women's game is now getting has been a long time coming.
"When I was a little kid I never experienced anything like this. If I were a little girl now I'd be absolutely loving it. So amazing to see it on such a big stage," she told Sky News.
"The first women's game I remember going to was in 2015," she said, "and since then I haven't been able to stop watching. It's great to see that so many other people are getting involved as well, it's fantastic," Cally added.
And the feeling that the women's game is finally getting the recognition it's due was shared by groups of young girls, gripped by the action on screen.
As they watched their idols play in front of a stadium packed with tens of thousands of people, one of them told me – if you can see it, you can be it.