Interest rates are up, house prices are down, the small boats are still coming, and NHS doctors are striking.
Labour are still 20 points ahead of the Conservatives in the poll of polls.
As he contemplates his political future and the lack of progress on his five pledges, it is understandable that the prime minister might want a summer holiday break from the day job.
Rishi Sunak's desire to get away can only have increased as he suffers personalised indignities.
Veteran campaigners from Greenpeace have given Just Stop Oil a lesson in how protest can be done, attracting attention without antagonising the public, by draping the Sunaks' Yorkshire mansion in black.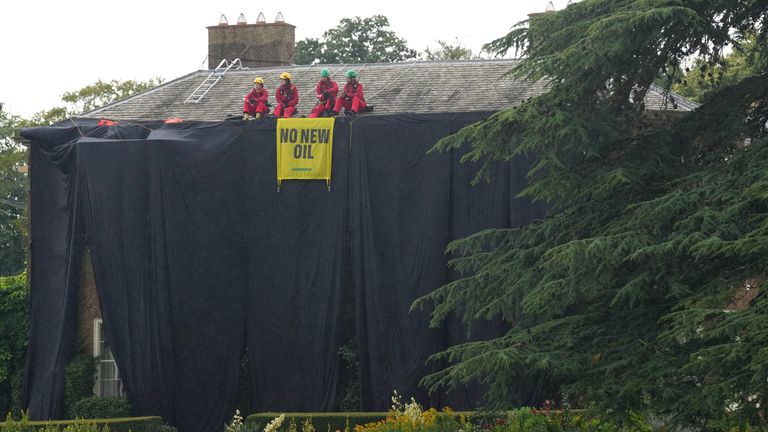 Even the prime minister's sartorial choices have come under attack with an arrows-point-to-defective-parts scrutiny of his made to measure suits.
"Sunak needs his suits to be nipped in – anything else would drown him," the style editor of The Daily Telegraph concedes, "but the cropped proportions mean his trouser leg rides up to mid-calf."
Crisis, what crisis?
Only a few miserable souls will begrudge the prime minister some time off, especially since we are told that he will be back at work, in Blighty, in only a few days.
The modest length of his holiday will not take targets off his back. Prime ministers struggle to hit the right note with their holidays and usually get it wrong.
Is it too flashy? Too boring? Too foreign? Bad for the environment? And who is really paying for it?
These delicate questions explain why Number 10 spokespeople made the mistake of refusing to give details of where the Sunak family were heading.
It was an error because denial will only perk up interest.
Past form shows that newshounds were bound to sniff out the location anyway and would then pap photos more enthusiastically than if they had been served up with a photo opportunity.
David Cameron learnt this lesson the hard way after having his man boobs snapped on a Cornish beach.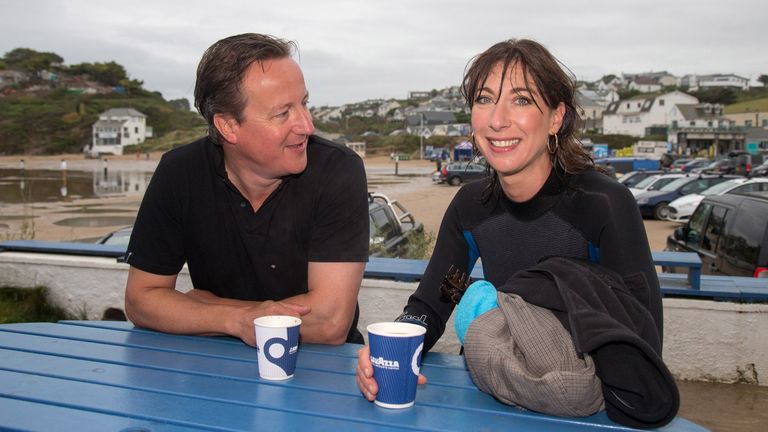 From then on, Cameron holidays began with a posed picture, usually of the beshirted prime minister pointing at dead fish in a market.
It took less than 24 hours for Mr Sunak's secret destination to be exposed.
The prime minister came clean in a rare extended radio phone-in which came across like a public request for permission to have a break afterwards. Sunak duly pleaded that this holiday is a "special trip".
"We're going to California, which is where I met my wife, so it's very special to us," he explained to listeners, "but the kids are very excited because I'm taking them to Disneyland".
It later emerged that the Mickey Mouse visit may be as much for their father as for his daughters Krishna and Anoushka.
"They have sadly grown out of princesses," the prime minister admitted – but "there's a new, well not that new anymore, Star Wars bit of Disneyland which I'm very excited about".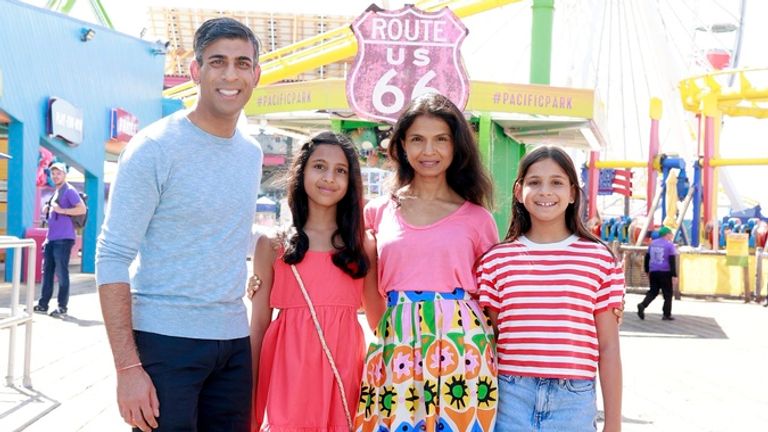 Not much to complain about so far. Lots of Brits take their families Disneyward, though most opt for the shorter-haul flights to Disneyworld in Florida rather than Disneyland in California.
Sunak has long advertised his softer side as a Star Wars geek. He collects merchandise from the franchise including a toy lightsabre, and called in the cameras to film his visit to the last blockbuster episode, accompanying his then "boss" Sajid Javid.
A California beach holiday is a lot grander than Cornwall or the walks in the Alps and Snowdonia favoured by Prime Minister Theresa May and her husband Philip.
The Sunaks are trying to muffle extravagance by flying "commercial" rather than indulging the prime minister's predilection for private jets. That is canny of them – a "PJ" return trip for the family would cost around $300,000 (£235,000).
They'll be more frugality because they'll be no hotel or rental costs. The Sunak's will be staying in the $5m (£3.9m) penthouse apartment they already own on Ocean Boulevard in Santa Monica.
Though whether it will be big enough to accommodate the prime ministerial entourage, funded by the taxpayer, is another question.
According to Cherie Blair, her husband's prime ministerial vacations required the presence of "three garden girls (the Downing Street secretaries) to do shifts because he has to have a 24-hour office, the comms people to take in secure lines to the White House and No 10, the detectives who come every day with the red boxes".
Mr Sunak may get by with a smaller team since he is only expecting "daily updates from his private office".
The Blairs did not have the wealth of Rishi Sunak and his wife Akshata Murthy.
Read more:
Rishi Sunak takes part in Taylor Swift-themed fitness class in LA
Sunak family stroll along California pier in holiday photos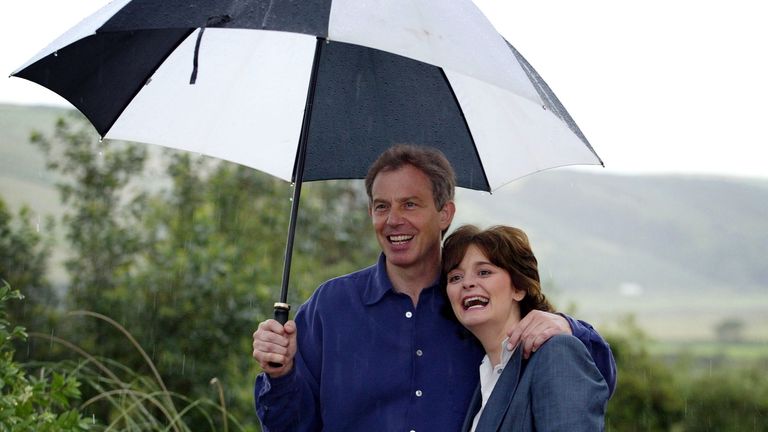 Cherie admits the family were "house bandits" inviting themselves as guests in other people's property.
Blair's image was damaged by the hospitality he accepted from Sir Cliff Richard, the Bee Gee Maurice Gibb, the Bamford JCB dynasty and the Italian aristocrat Prince Girolamo Strozzi, among others.
Having pitched her tent on a campsite in Cornwall, the Labour MP Caroline Flint was surprised to see the then prime minister walking by.
That year, following the foot and mouth outbreak, the Blairs fitted in an unconvincing "holiday at home" away from the sun.
Margaret Thatcher used to impose on a friend as well. She spent several summer breaks away from Number 10 at the Swiss lakeside schloss of Lady Elenore Glover, the widow of a Tory MP.
Click to subscribe to the Sky News Daily wherever you get your podcasts
By all accounts she did not enjoy her leisure time and packed in as many official trips and visitors as she could.
The surprising exception was when she turned up in Cameron territory on a Cornish beach with a spaniel called Polo on a lead, and her husband Dennis.
It was the day after she had surgery on her hand, and the purpose was to demonstrate that the Iron Lady still had an iron grip under the bandages.
John Major and Gordon Brown did not attract attention with their holidays because they did not amount to much.
Major watched cricket and bought a second home in Norfolk.
A glum looking Brown took off his red tie in Suffolk but rushed back to London at the first news of anything happening.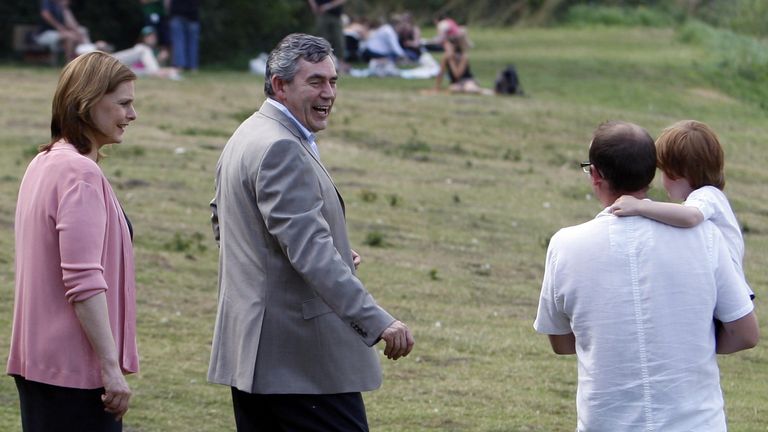 Like much else during his premiership, Boris Johnson's holiday diary was chaotic – including Perugia, Greece, Mustique and Margate.
It remains a mystery who picked up the tap for some of his luxury trips with Carrie.
He almost certainly did pay himself for their memorable budget trip to a remote Scottish cottage in 2020 with their new baby. That idyll was cut short when photographers took unauthorised pictures of the couple.
Prime Minister Sunak has not done himself any damage with this year's family holiday.
He claims not to have had a proper one for four years. Efforts to get away last summer were certainly blighted by his leadership battle with Liz Truss and the death of the Queen.
He has not notched up any points as a man of the people either, with the well-heeled trip to California.
The choice confirms what the world already thought of the couple who met at the elite Stanford University, not far from Disneyland.
No score with the holiday can be seen as a win for this prime minister facing the live possibility that the next general election could free him "to spend more time with the family", as ministers thrust out of office like to put it.
Otherwise, expressed in the cruder words to errant underlings of an old Sky News boss, "go on holiday permanently, mate!".