Surprise scenes were witnessed in North Yorkshire today as protesters from Greenpeace climbed on to the roof of Rishi Sunak's manor house to demonstrate against his oil and gas policies.
The group knew the prime minister and his family were away, but as well as attracting a lot of media attention, the action has raised questions about how the four people were able to get on top of his home without being stopped and whether there are gaps in the huge security operation surrounding the most powerful politician in the UK.
The police and security services keep tight-lipped about all the exact details of how a PM is protected, but what do we know about the security of the country's leader?
Politics live: 'Stop the stupid stunts,' says deputy prime minister
The prime minister's security operation is the responsibility of the Royalty and Specialist Protection branch of the Metropolitan Police Service, known as RaSP.
Downing Street
When the PM is in Number 10, they are surrounded by the well-established operation of one of the most heavily protected buildings in the UK.
Downing Street used to be open to the public, but since 1989, amid fears of attacks from the IRA, it has had large black metal gates at each end of the road, manned by armed police.
Checkpoints are in place for anyone coming into the street, with airport-style security for visitors and heavy vetting taking place for staff, who have to show a pass to get in.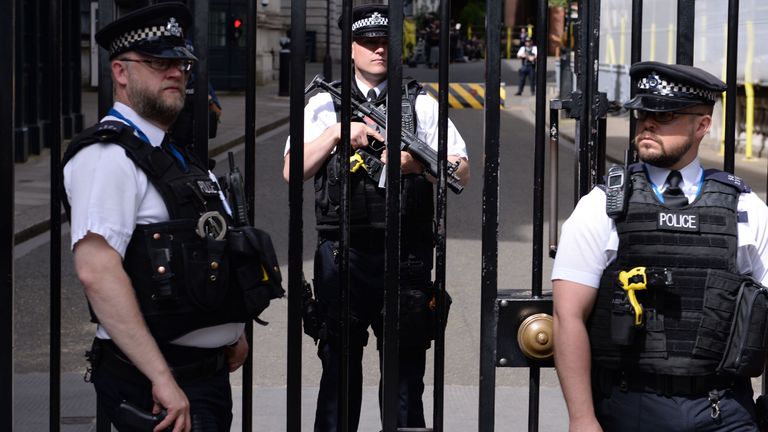 The street is constantly patrolled by armed police, and at least one officer is stationed outside the door of Number 10.
There are also extensive security devices and cameras on the street.
On the road
When the PM is travelling, the operation has to change – depending on where they are heading to.
Sky News's policing analyst Graham Wettone said: "Every visit is threat and risk assessed depending where they are going and what they are doing, with different sizes of teams depending on the location."
He said the prime minister would have a couple of dedicated close protection officers with him at all times, and at least one person in a car with him when on the move.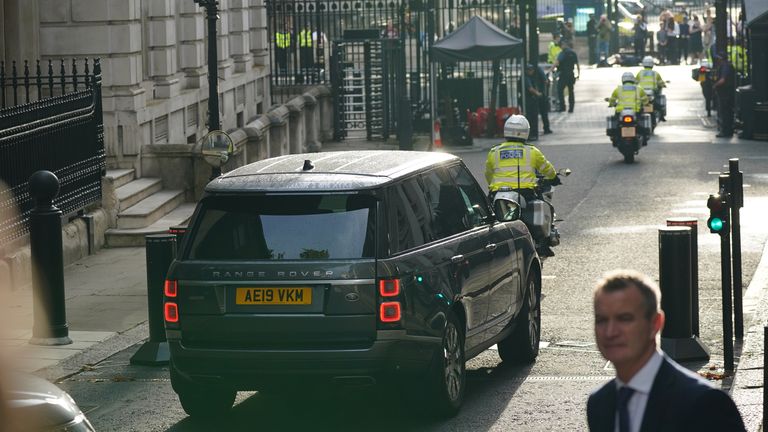 They will be joined by a wider team of security officers that work on a week on, week off rota system "handing the baton over" each time, he added, and they will travel in additional cars.
There will then be police outriders on motorbikes, but a key part of their role is to clear a path in the traffic – both allowing the PM to get where they need to go faster, but also to stop them from being a sitting target.
David Cameron did dispense of the outriders when he became prime minister in 2010 as a cost saving measure, but had to bring them back in 2014 after a jogger was able to run into him during a visit in Leeds, raising security fears.
At home
Obviously, today's story has shone a specific light on what protection a prime minister gets when they are at home – although Mr Sunak had publicised on Wednesday that he was heading to California with his family that afternoon.
While away, Wettone said there was unlikely to be many people at the house, but even when the PM is there, the security detail would not be as large as elsewhere.
"If Rishi Sunak was at home with Mrs S and the kids, he would probably just have his close protection officer and a back-up car," he added.
After Number 10
As we have seen multiple times in the past year, a prime ministerial career does not last forever. So what happens when a PM leaves the relative safety of Downing Street?
However long they were in office, from Liz Truss's 49 days to Tony Blair's 10 years, a prime minister is still entitled to a security detail.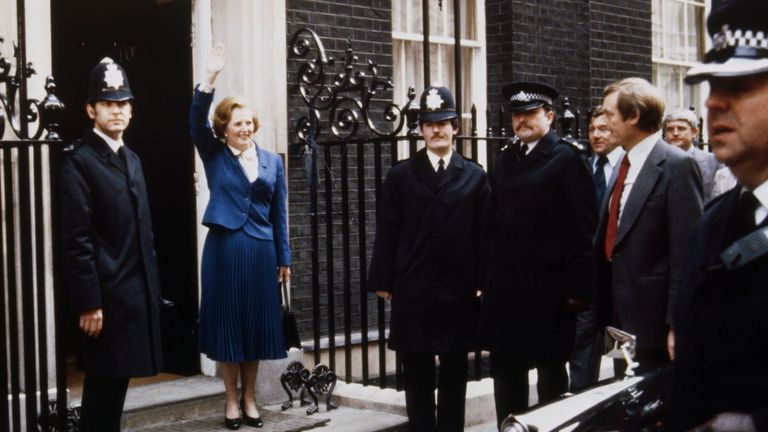 "Margaret Thatcher's close protection officer was there until the day she passed away", said Wettone.
The team is a lot smaller, perhaps even just one officer. But again this is decided on the level of risk faced by the individual and their role after office.
Other MPs
The PM is not the only politician to get protection, however.
A number of senior cabinet ministers also have close protection officers and a team for their safety, and certain roles, such as home secretary or Northern Ireland secretary, retain that security after they leave their post.
But the average MP doesn't get the same level of protection.
The sister of murdered MP Jo Cox, Kim Leadbeater, speaks about the dangers and taking all the security offered to her as an MP

A review of their security was carried out by the Parliamentary Security Department recently following the murder of Tory politician Sir David Amess, who was stabbed multiple times during one of his surgeries in his Southend constituency in October 2021.
The exact details of its recommendations remain confidential on security grounds, but it is understood that a new multi-agency team will look at the threat faced by individual MPs and suggest measures they should take to safeguard themselves and their staff.
Sir David was the second MP to be killed in six years after Labour politician Jo Cox was shot and stabbed in her Batley and Spen constituency in 2016.