The latest case against Donald Trump could backfire against prosecutors, the man who famously wore a horned helmet during the January 6 2021 riot at the US Capitol has told Sky News.
Jacob Chansley, also known as the QAnon Shaman, was sentenced to 41 months in prison in November 2021 after pleading guilty to obstructing Congress' proceedings and was released from jail earlier this year.
Yesterday, the former US president was charged with trying to overturn his 2020 election defeat and stay in the White House as he was accused of "fuelling" his supporters' violent insurrection in Washington DC with his "lies".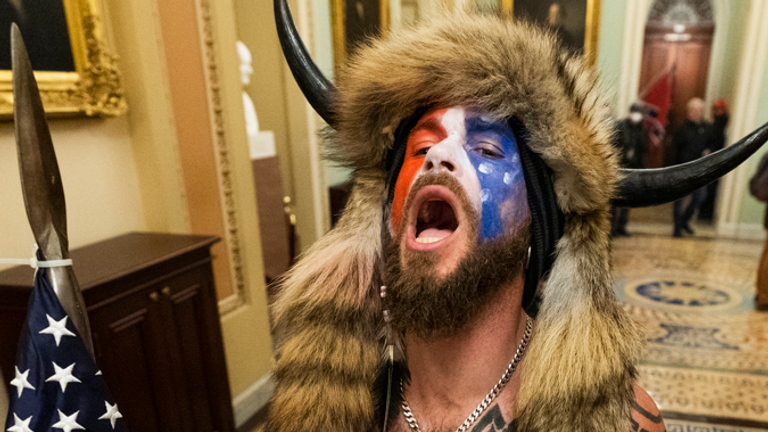 Prosecutors say Trump pushed fraud claims he knew were untrue, pressured state and federal officials – including Vice President Mike Pence – to alter the results and finally incited the Capitol assault in a bid to undermine US democracy and cling to power.
The four criminal counts include conspiracy to defraud the US government, conspiracy to obstruct an official proceeding – the certification by Congress of Mr Biden's victory, and conspiring to deprive voters of their right to a fair election.
In testy exchanges with Sky's Mark Austin, Chansley said of the indictment: "This may end up backfiring because the information regarding the election will end up becoming public knowledge through these court filings.
"So this may end up snapping back on the people that are pressing these charges, because now it all is going to be out in the open and the very real evidence that there was fraudulent or rigged certain portions of the election."
Special Counsel Jack Smith, who is overseeing the Trump investigation, told reporters: "The attack on our nation's Capitol on January 6, 2021, was an unprecedented assault on the seat of American democracy.
"It's described in the indictment. It was fuelled by lies, lies by the defendant [Trump] targeted at obstructing a bedrock function of the US government."
Chansley, who strode through the Capitol shirtless and carrying a spear-tipped flagpole, was one of the most well-known faces of the insurrection.
He surged into the building within moments of the first breach and joined a 30-minute stand-off between rioters and police outside the Senate chamber.
Chansley strode onto the rostrum and said a prayer.
According to prosecutors, he then scrawled a note to Mr Pence, who was standing on the same rostrum just minutes before. The note read: "It's only a matter of time. Justice is coming!"