Asylum seekers could be moved on to the controversial Bibby Stockholm barge next week, Sky News understands.
The vessel, which is currently docked in Portland on the coast of Dorset, was supposed to start accepting arrivals last week, but was pushed back.
Sky News reported that the first people would then move on to the barge on Tuesday this week – but that also was held up after last minute meetings were held responding to fire safety concerns.
A government source said the first arrivals could now come "next week", as the local council in Portland "doesn't want new services beginning on a Thursday or Friday".
The source said the delay was because "working practices for port workers have to be signed off for the health and safety executive" – and not because there were "fire safety issues", as had been reported.
Transport minister Richard Holden told Sky News this morning that the barge was going through its "final checks" but would not confirm if it was safety fears causing the hold up.
However, he added: "It is right that whatever accommodation we provide is safe and secure as well.
"I can't put a timeline on it… the checks are going to take as long as they are going to take. It is important we get these things right."
Labour's shadow justice secretary Steve Reed said the latest delay showed the Conservatives were "failing in absolutely every single way" in dealing with the number of asylum cases coming through the system.
"The hotels are absolutely chock-full of asylum seekers because [the government] are failing to process these cases," he told Sky News.
"The Rwanda scheme is just never going to work – it's just a gimmick to grab the headlines rather than deal with the problem. And now we're seeing the same problem with the barge as well."
The 222-bedroom Bibby Stockholm will start housing 50 single men initially before housing up to 500 people who are currently staying in hotels.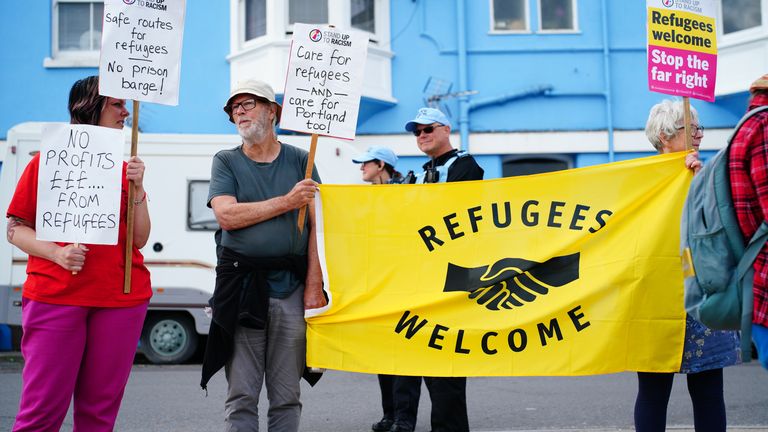 The barge will have 24-hour security and accommodate single men only, who will sleep in bunk beds with between two and six people per en-suite room.
The vessel has attracted a backlash from Tory MPs, including Richard Drax, who represents South Dorset, and Chris Loder, for West Dorset, who has demanded to see safety reports and claimed it is going to house double the amount of people it is designed to hold.
Ben Selby, the assistant general secretary of the Fire Brigades Union, criticised what he called "a reckless approach to the safety and well-being of both vulnerable refugees and firefighters" after the fire safety concerns were raised.
"The Home Office has declared that this plan is a cheaper option for housing asylum seekers," he said.
"This is a damning indictment of the prevailing attitude that saving money is the highest priority, with people's lives treated as collateral damage.
"Everyone has the right to live in safe accommodation and we back the calls urging these plans are abandoned immediately."
What is it like onboard the Bibby Stockholm?

Asked about the fire safety issue today, Rishi Sunak said: "All migrant accommodation has to go through a series of checks and inspections to make sure it complies with regulations.
"That's what's happening in this case.
"This is ultimately about fairness. I don't think it's fair that British taxpayers are forking out £6m a day to house illegal migrants in hotels.
Read more:
Homeowners and renters at risk of eviction to receive free legal advice
Thousands of criminals left prison 'unlawfully' over past decade
"I want to put an end to that – and that's why we're passing new laws."
Mr Sunak said the Illegal Migration Act – which became law late last month – was the "right, fair and compassionate" thing to do.
It will mean that anyone arriving in the UK illegally will be ineligible to claim asylum.
It will also place on the home secretary a duty to remove illegal immigrants to their home country or a safe third country such as Rwanda – a policy that is currently held up in the courts.
Meanwhile, migrants who arrive in the UK illegally will be banned from returning in the future and will also limit the legal routes for appeal against a removal order.