David Tennant has admitted he didn't really know what he was getting into when he signed up to play the demon Crowley in Good Omens, a series based on the cult favourite book by Terry Pratchett and Neil Gaiman.
As it's a novel beloved by its fans, there was a certain amount of pressure that came with the part, though Tennant told Sky News' Backstage podcast he hadn't quite realised that when he got the gig.
The Doctor Who actor stars in the series alongside Michael Sheen, Jon Hamm and Miranda Richardson.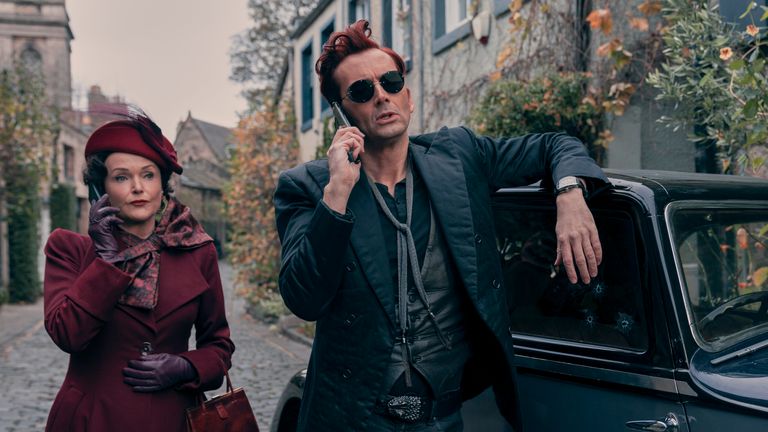 "My nerve curve was pretty exponential because I wasn't – unlike Michael – I didn't really know the world of, the fandom of the book, somehow it had passed me by," he said, in an interview alongside Sheen before the actors' strike was announced.
"Then I was doing the show and it was thrilling and then I would keep meeting people, some of whom were in the cast, who would go: 'This book I've read every year of my life, it's the most important story to me'.
"And then of course, you start realising this precious thing that you carry and the responsibility and so yes, then it was alarmingly scary that you might break some dreams."
Sheen interjects, asking his co-star: "And how's your nerve curve now?"
"I'm pretty chill," says Tennant.
"I saw it the other day, it looks marvellous," Sheen replies.
This kind of light teasing is typical of the pair, who also worked together on the comedy Staged, in which they play fictionalised versions of themselves, and share a genuine friendship.
This is replicated in Good Omens, with Tennant's demon Crowley the unlikely best pal of Sheen's angel Aziraphale.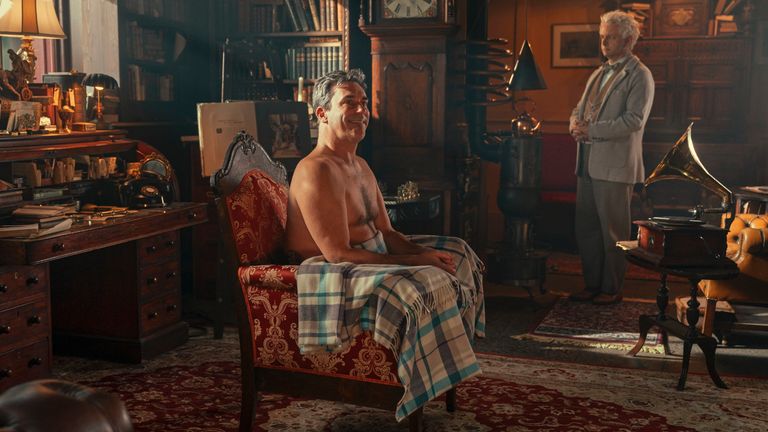 Sheen says their relationship is at the heart of what he loves about being on the show.
"You can have a character that you enjoy playing and that you really love, but it's kind of rare that you have a dynamic between two characters that just is the thing that works so well," he said.
"That then makes the whole process very enjoyable because you don't feel like you're having to generate stuff yourself all the time, it just happens… as we're in scenes together it just happens – because it's written so brilliantly as well, obviously, that's the main thing."
"They only really exist as a unit," Tennant adds. "That's when they come to life, and that's really fun to play."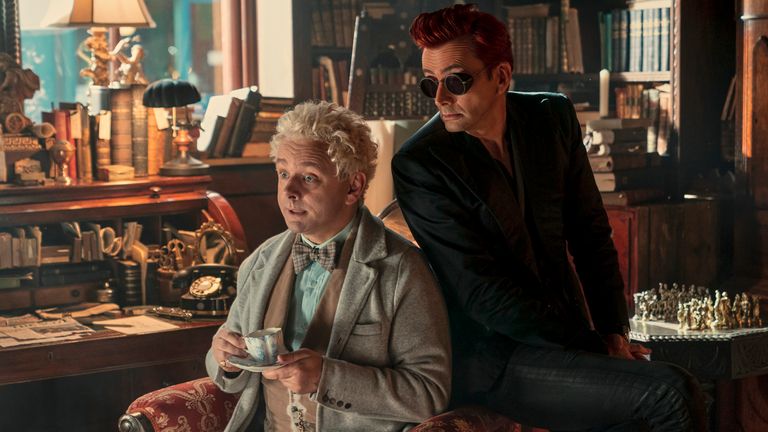 While an angel and a demon might sound like opposites, Good Omens looks at the grey areas – the fact that Crowley is more well-intentioned than you might expect from a demon, and vice versa for Aziraphale.
Human behaviour is also up for inspection – in the first episode of the second series, Crowley admits he doesn't have to work too hard to cause trouble as humanity messes things up well enough.
"There's a lot of great things to celebrate in humankind aren't there, but we don't get it all right, and Crowley likes to take credit for a lot of the things that we get wrong," says Tennant.
"But I think that's one of the things about this story. It's sort of celebrating – I mean, these are two supernatural beings, but they're more human than the humans – and it's celebrating the kind of diversity of that, it's looking for common ground between us."
Tennant on Good Omens 'nerve curve'

Sheen agrees: "Our greatest frustration as a species is also our saving grace, which is that we are flawed. And it's only when we like to pretend that we're not that we get into trouble, I think it's when we deal in absolutes and black-and-white that we get into trouble.
"When we are able to accept our flaws and our messiness, then that always leads to reaching out and being inclusive and connecting."
Good Omens isn't the only fan-favourite property Tennant is involved with at the moment. He's the first actor to return to the role of Doctor Who, playing the time traveller for three episodes and a festive special later this year before Sex Education star Ncuti Gatwa takes over.
Click to subscribe to Backstage wherever you get your podcasts
Tennant returns along with writer and executive producer Russell T Davies, with expectations high for the new era of the long-standing sci-fi.
"Oh, it's lovely, lovely," Tennant says of his return. "And very exciting for where that show's going, Russell T Davies back in and Ncuti Gatwa who is just a sort of force of nature.
"And it's very nice to have a little revisit for myself in amongst all that excitement and great future that that show's got – it just keeps reinventing itself."
Good Omens series 2 is out on Prime Video – hear our review in the latest episode of Backstage, the film and TV podcast from Sky News