Voters across Northern Ireland will head to the ballot box for local elections this Thursday.
On 18 May, people across the country will get the opportunity to decide who is responsible for local issues, from leisure services to bin collections.
Local elections are often used by voters to voice their opinion on national political parties, so the results will be watched closely ahead of the next Northern Ireland Assembly elections, which could be in January 2024.
This is particularly poignant at the moment as there has been no functioning government in Northern Ireland since February 2022 after the Democratic Unionist Party (DUP) refused to form a power-sharing government in protest over post-Brexit trading agreements.
Voters are likely to use the local elections to give a verdict on the parties' approach to the Windsor Framework, the amended Brexit deal for Northern Ireland agreed by Westminster and the EU in February.
Sky News takes you through all you need to know about the upcoming local elections.
Where are they taking place?
A total of 462 seats will be up for grabs in all of Northern Ireland's 11 councils.
They are taking place two weeks later than originally planned after Northern Ireland minister Steve Baker pushed them back over concerns the King's coronation on 6 May would "impede the smooth running of the election and cause difficulties for staff involved".
Local elections in England went ahead on 4 May, when Northern Ireland's were originally planned for.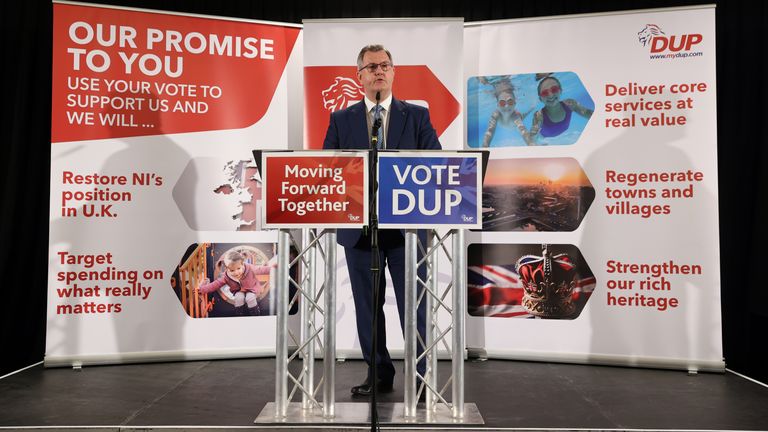 Which voting system will be used?
A single transferable vote system is used for the country's local elections, just as it is for Northern Ireland Assembly elections and Scottish local elections.
Voters have to mark a "1" against their first preferred candidate on the ballot paper, a "2" against their second preference and so on, for as many candidates as they wish.
A mathematical formula based on the number of seats and number of votes cast is used to calculate a quota for each area.
Candidates who receive the number of first preference votes to meet the quota are then elected.
If a candidate has more votes than the quota their extra votes are transferred to the next preferred candidate.
The candidate with the fewest votes is knocked out and their second preferences transferred to other candidates.
Read more:
NI secretary 'truly believes' Stormont will be up and running by end of year
Biden calls for NI Assembly to be restored
DUP on why NI election won't work

This process continues until either five, six or seven candidates meet the quota or there are only five, six or seven left (depending on area) and they are then elected.
As a result, the counting generally takes longer than in England, where the first-past-the-post system is used.
The system has been used since 1998 and was chosen to allow the widest range of voices to be heard.
Who can vote?
People must be registered to vote, live in Northern Ireland, be 18 years or older and be a British, Irish or qualifying Commonwealth or EU citizen.
Those who are registered to vote will receive a polling card in the post ahead of the day.
The deadline to register was midnight on 28 April.
What are the different ways of voting?
Voters can head to their local polling station on 18 May, with the location indicated on their polling card, but people do not need to take the card with them.
Those who wish to vote by post must fill in a postal vote application form and send it back to the Electoral Office for Northern Ireland by the date stated on their form – it is different for different areas.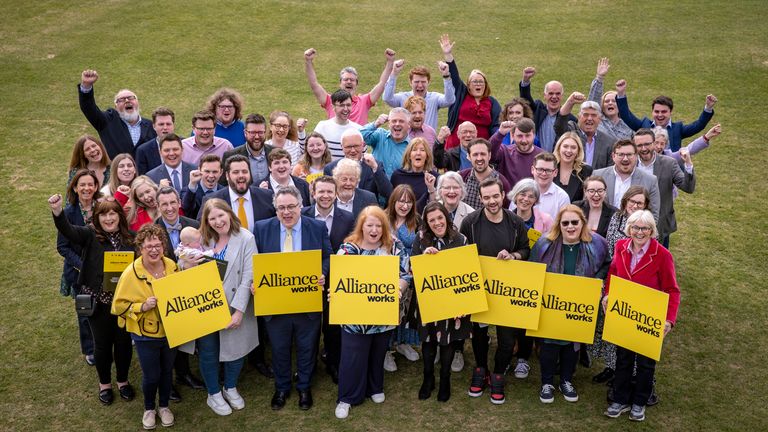 Voters can also nominate a proxy to vote on their behalf. They must have completed an application form specifying the reason they cannot go in person to vote.
The deadline for applying to vote by post or proxy was 26 April.
Voter identification
Northern Ireland introduced the requirement to show photo ID before being able to vote in 2002. It was required for the first time in England during the latest local elections earlier in May.
Valid ID includes a UK, Irish or EEA/EU driving licence or passport, an electoral ID card, Translink cards or biometric immigration documents.
The documents do not need to be current or have your registered voter address, but the photo must be of a good enough likeness.
What happened last time?
The 2019 local elections saw a rise in support for the Alliance Party, notable because it is a liberal and centrist party as opposed to a unionist or republican party.
It remained the fifth-largest party but closed the gap on all the others and its success was replicated in the European, Westminster and Stormont elections over the next three years.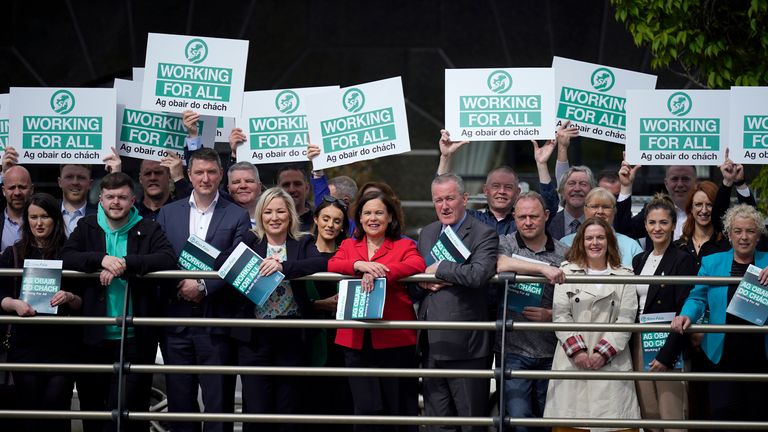 The Greens and People Before Profit, both smaller parties, gained four seats each in 2019 but all the others lost seats.
The DUP remained the largest party with 122 seats, but dropped eight, while Sinn Fein came second with 105 – unchanged from the previous election.
The Ulster Unionist Party came third with 75 seats, losing 13, and the smaller Traditional Unionist Voice dropped seven to hold six.