The actor Stephen Tompkinson has been found not guilty of inflicting grievous bodily harm on a man he confronted for drunkenly making noise outside his house.
The DCI Banks star, 57, was accused of punching Karl Poole in the head after finding him and a friend drinking at the bottom of his driveway in the early hours of 30 May 2021.
Mr Poole fell to the ground and broke his skull when his head hit the pavement, Newcastle Crown Court was told.
Tompkinson denied punching Mr Poole and said he was "not responsible" for the double skull fracture he sustained.
The actor, who was living with his partner and her seven-year-old son at the time, said he came out of his house in Whitley Bay, North Tyneside, at around 5:30am after hearing "strange noises".
Tompkinson called 999 after seeing the pair try to stand up and fall several times while drinking from a bottle of Jagermeister, jurors heard.
While waiting to be connected, Tompkinson went outside wearing pyjamas and a dressing gown and told the men who he was calling.
He told the court the two "heavily intoxicated" men "took great objection to me complaining about them being there" and had started to move towards him.
He said he put his hand out to stop Mr Poole coming any further.
"I didn't want to hurt him, I wanted to stop him to change his mind about coming towards me and further on to my property," Tompkinson said.
He added that when he initially spotted the men it was a "horrible sight" and he had been worried about glass breaking in an area where his partner's child plays.
Giving evidence in his defence, the Ballykissangel star said he put his hand out to stop Mr Poole coming towards him and made contact with his face but that it "wasn't enough to knock a sober man off his feet".
He said it would be "career suicide" to do something as outrageous as assault someone".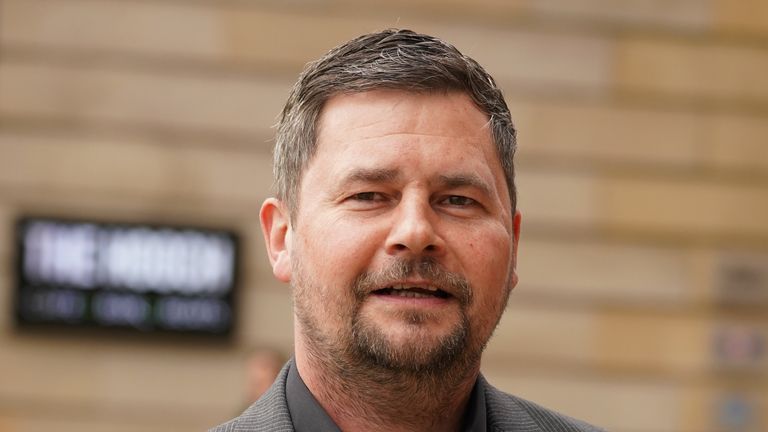 Prosecutors claimed Tompkinson "snapped" and "lashed out" at Mr Poole in "disgust" at his behaviour.
Neighbour Caroline Davidson, who was watching from her bedroom window, told the court she saw Tompkinson slap and punch Mr Poole, causing him to stumble and fall backwards, hitting his head on the ground.
Tompkinson said he could not have punched Mr Poole because he was holding his phone.
On Thursday, a jury found him not guilty of causing grievous bodily harm after deliberating for just under two hours.
Tompkinson thanked the jury as they left the courtroom after being found not guilty.
Asked for his reaction as he was leaving court, Tompkinson told reporters: "I just want to go home."
He told the court during his trial that he has lost acting work since being charged and any association with him in the industry was "on hold" while the legal proceedings were hanging over him.