A 19-month-old girl has been successfully treated for a fatal genetic disease with the world's most expensive drug.
Teddi Shaw is the first person in the UK to receive Libmeldy, a treatment that corrects the underlying genetic fault that causes metachromatic leukodystrophy (MLD).
The gene therapy, which replaces a defective gene inside the body's cells, has a list price of £2.8m.
Even with a "significant confidential discount" by UK-based biotech company Orchard Therapeutics, NHS England says it is still the most expensive drug licensed in Europe.
But Teddi now shows no sign of MLD, a previously incurable disease that causes serious damage to the nervous system and organs.
Newly diagnosed patients have a life expectancy of just five to eight years.
Teddi's mum, Ally, said: "Teddi is doing absolutely brilliant. She is walking, running, a chatterbox, absolutely no signs so far of MLD.
"She is an absolute character and has everyone around her laughing all the time."
Teddi and her three-year-old sister Nala were both diagnosed with MLD in April last year.
Nala was unable to have treatment because of clinical guidance that it should start before the irreversible damage caused by the disease progresses too far.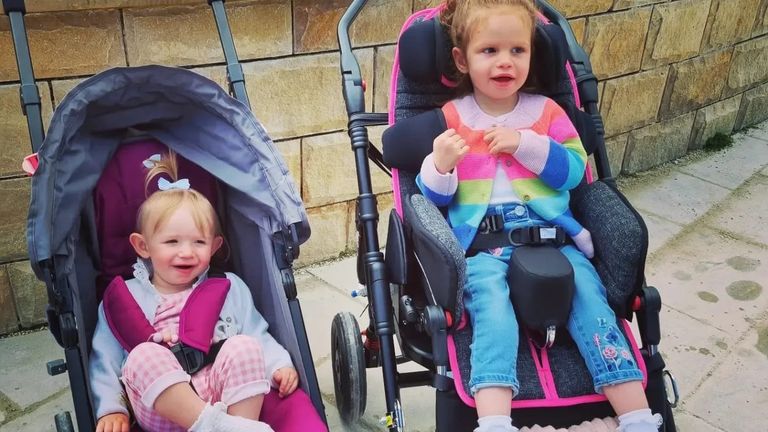 Ally said: "Being told our first daughter Nala wasn't eligible for any treatment, would continue to lose all functions, and die extremely young was the most heartbreaking and hardest thing to come to terms with.
"However, amongst the pain, was hope for our younger daughter, Teddi.
"We are extremely privileged that Teddi is the first child to receive this on the NHS and grateful that she has the opportunity to lead a long and hopefully normal life.
"Without this treatment, we would be facing both our children being taken away."
'Miracle treatment'
Teddi was treated by Royal Manchester Children's Hospital – in collaboration with Manchester's Centre for Genomic Medicine at Saint Mary's Hospital.
It's the only hospital in the UK to offer treatment, and one of just five European sites to do so.
During treatment, stem cells are removed from the bone marrow or blood circulation. The faulty gene is the corrected with a healthy copy and the cells reinfused.
Amanda Pritchard, NHS England chief executive, called it a "miracle treatment".
She said: "Thanks to advancements in gene therapies, and the commercial ability of the NHS to strike deals for cutting-edge drugs and then deliver them through our phenomenally skilled specialist staff, children born with this condition now have the opportunity to lead normal, healthy lives.
"It means that children like Teddi can do the things that all children should be able to, like going to school and playing with friends."
Around four babies a year are born in England with MLD. Previously, treatment was limited to managing symptoms and supportive care.
In future, Libmeldy will be available to children who have yet to develop symptoms or are in the early stages of the disease.
Ally urged the NHS to start genetic testing of babies so children like Nala can be diagnosed in time.
She said: "We can only hope that one day, a treatment becomes available for all stages of MLD, and we feel strongly that it should be added to the newborn screening test to save more families from having to go through this heartache."