Air raid sirens have sounded across the whole of Ukraine as Russia launched sustained strikes in several parts of the country, hitting power supplies.
Explosions have been heard in the capital Kyiv and the surrounding area, while residents have been urged to take shelter and not ignore alerts.
Kremlin forces struck critical infrastructure in Kharkiv, Ukraine's second-largest city, and power facilities in Zaporizhzhia.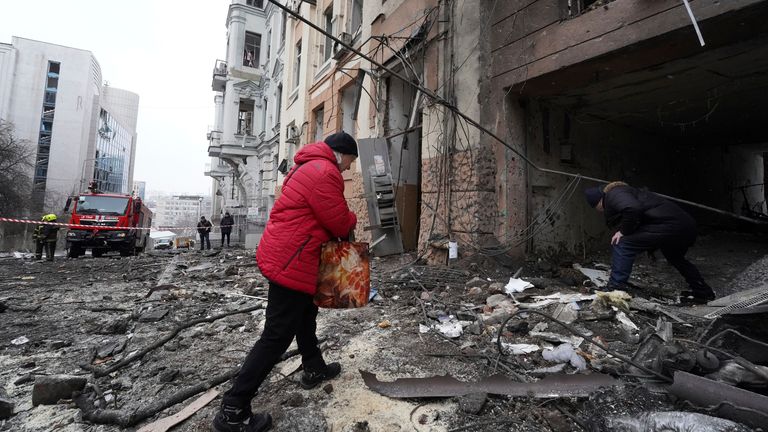 Ukraine war latest – Big Russian offensive has 'definitely' started, official says
Sites have also been targeted in Khmelnitskyi in western Ukraine, and the central Dnipropetrovsk region.
While Ukrainian air defences said they had shot down a number of missiles and drones, it was reported Russia had also fired S-300 rockets, which cannot be intercepted.
Zaporizhzhia city council secretary Anatolii Kurtiev said the city had been hit 17 times in one hour, which he said made it the most intense bombardment since the beginning of the invasion last February.
In Kharkiv, the authorities were trying to establish the number of casualties and scale of the destruction, with mayor Ihor Terekhov saying there may be disruptions to heating and the electricity and water supply.
Read more:
Is the UK really able to send fighter jets to Ukraine?
Zelenskyy to discuss Russia's involvement in Paris Olympics as Ukraine threatens to boycott
Serhiy Popko, head of Kyiv city military administration, told residents: "There is a big threat of missile attack. I want to stress again – do not ignore the air alert sirens."
Military analysts say Russian President Vladimir Putin is hoping Europe's support for Ukraine will ebb, as Moscow is believed to have launched an expected major offensive in a bid to make territorial gains as the anniversary of the invasion approaches.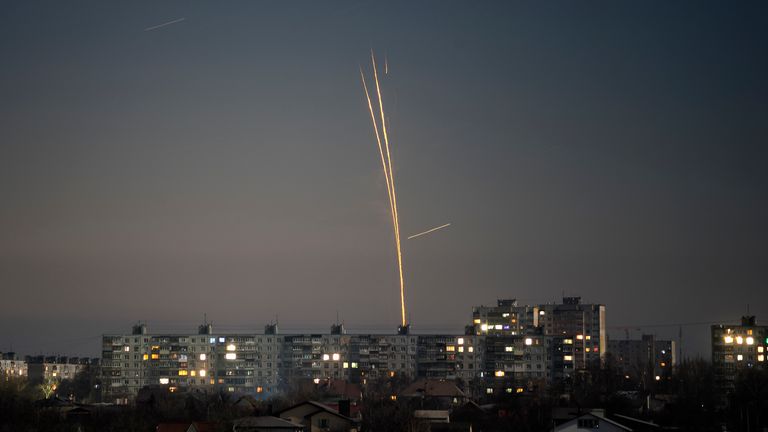 Kyiv's military intelligence agency said Kremlin forces have intensified attacks in the partially occupied Donetsk and Luhansk regions, with the aim to grab full control of the entire industrial region, known as the Donbas.
Moscow-backed separatists have been fighting Ukrainian forces there since 2014.
Zelenskyy speaks in Westminster Hall

Luhansk governor Serhiy Haidai told Ukrainian radio: "Over the past week to 10 days, the frequency of shelling has increased.
"The daily number of attacks has increased."
Meanwhile, Ukrainian President Volodymyr Zelenskyy used a visit to the UK and Europe to urge the supply of advanced fighter jets, sparking warming by Moscow.