Ukraine is preparing for a major escalation by Russia – possibly even in the next two to three weeks, the Ukrainian president's top security official has said.
Oleksiy Danilov, Secretary of the National Security and Defence Council of Ukraine, told Sky News that the hardest fighting was yet to come and said the next few months would be crucial in deciding the course of the war.
He urged western allies to send more weapons, including Royal Air Force Typhoon jets from the UK and fighter aircraft from other partners.
"Russia is preparing for maximum escalation," Mr Danilov said in an interview on Tuesday at his headquarters in the capital Kyiv.
"It is gathering everything possible, doing drills and training."
He did not rule out the possibility that President Vladimir Putin attempts another attack from the north, south and east, as happened on 24 February 2022 – maybe even to coincide with the anniversary.
"We do understand everything is on the table… I can say that we are not excluding any scenario in the next two to three weeks."
He said that Ukraine's military was preparing for all possibilities and this time around had significantly more support from western partners such as the UK than 12 months ago.
"Those countries who help us in our struggle have started to provide us maximum help."
Why won't the US send fighter jets?

A western official, however, said that they had not seen sign yet of Russia planning anything specifically for 24 February.
Read more:
Zelenskyy 'thankful' for tanks but warns quantity and delivery time is 'critical'
Germany to send 14 Leopard 2 tanks to Ukraine
What are Leopard 2 battle tanks?
"We will continue to monitor that," the western official said in a briefing to journalists.
"Traditionally they [Russia] have tried to do things on dates. The Ukrainians come from a similar culture as well in that regard, but I haven't seen anything from either side to suggest they do have plans afoot."
Mr Danilov said he expected about half of more than 320,000 soldiers mobilised by Russia last September would be involved in the second wave whenever it came.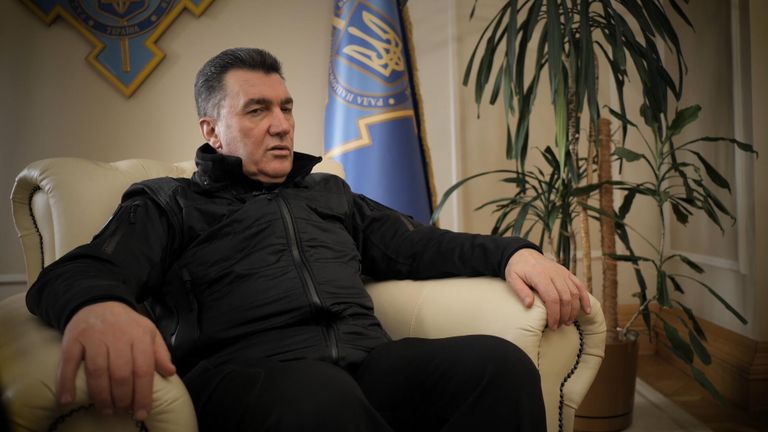 The first half of the manpower have already been deployed to Ukraine to replenish Russian lines after Moscow's invading forces suffered significant losses.
Ukraine has also paid a heavy price in military personnel and civilians killed and wounded.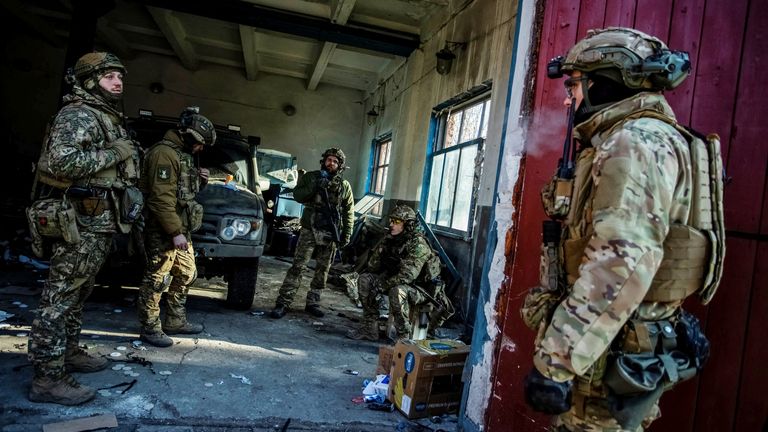 'Bloodier days to come'
Yet the top security official predicted even bloodier days ahead.
"Of course. We went through an extensive difficult period, but I'm conscious the main fights are yet to come and they will happen this year, within two to three months. These will be defining months in the war," Mr Danilov said.
Click to subscribe to Ukraine War Diaries wherever you get your podcasts
It is why the Ukrainians are desperate for their western partners to send more lethal weapons and faster.
They have secured tanks – belatedly – and are now after fast jets.
"It would be great if they were [RAF] Typhoon jets. F-16s are also good," Mr Danilov said.
"Any help would be good."
What's the situation on the ground in Ukraine?

It is not just Russian forces rearming and preparing to go on the attack.
"We have our own plans and they are clear to us," Mr Danilov said – but they are secret.
"They're not hidden from our main partners: the UK, US and other countries who are helping us. We will follow our plan."
The ultimate goal is to retake all territory captured by Russian forces – not just since 24 February 2022 but since Russia launched its first invasion of Ukraine back in 2014, capturing the Crimean peninsula and backing so-called separatists in the eastern Donbas region.
"We will definitely win due to having all the world's support behind us," Mr Danilov said.