Novak Djokovic has won the Australian Open to equal Rafael Nadal's Grand Slam record, a year after he was deported over his COVID vaccination status.
The Serbian tennis star beat Greek player Stefanos Tsitsipas in three sets in the final in Melbourne on Sunday.
It is Djokovic's 10th Australian Open title and he has now equalled Nadal's Grand Slam record of 22 men's singles titles.
His victory comes a year after he was unable to compete in the tournament when he was deported from Australia because he refused to have the COVID vaccine.
After winning the match, Djokovic climbed into the stands to celebrate with his team and family and was overcome with emotion, lying on the ground and sobbing uncontrollably.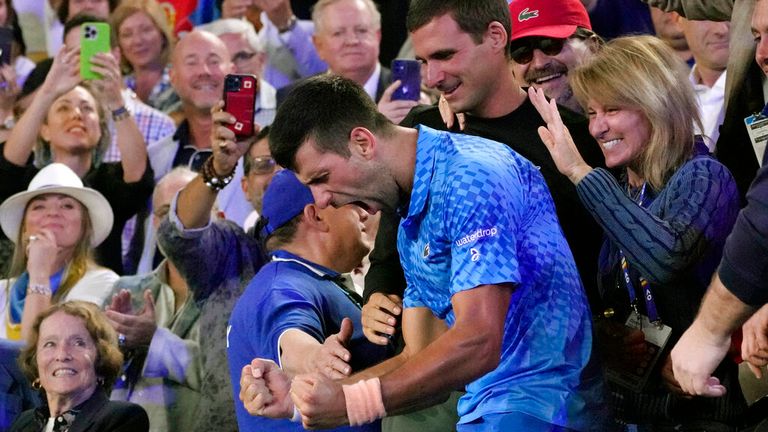 Speaking on court in a jacket bearing the number 22, he said: "This has been one of the most challenging tournaments I've ever played in my life.
"Not playing last year, coming back this year. I want to thank all the people that made me feel welcome, made me feel comfortable to be in Melbourne, to be in Australia.
"There's a reason I've played my best tennis on this court. Only my team and my family know what we've been through in the last four, five weeks.
"This probably is the biggest victory in my life considering the circumstances."
Djokovic defeated Tsitsipas 6-3, 7-6(4), and 7-6(5) at the Rod Laver Arena.
His 22 Grand Slam victories include seven Wimbledon titles, three US Open titles and two from the French Open. The first of his 10 Australian Open wins came back in 2008.
Tsitsipas congratulated his opponent on his record-equalling victory.
The 24-year-old said: "I admire what you have done for the sport. You make me a better player when I am on the court.
"Novak brings the best out of me… he is the greatest that has ever held the tennis racket."
He added: "I've had the privilege to play a lot of high-intensity matches. These are the matches I've been working my entire life for. I'd like to thank you for pushing our sport so far."